Ask a question
Download Brochure
Expeditions
Rock N Canyon 2019-20

Experience the sunset and sunrise over Ulu?u
Walk the Valley of the Winds at Kata Tju?a
Swag under the stars at Kings Creek Station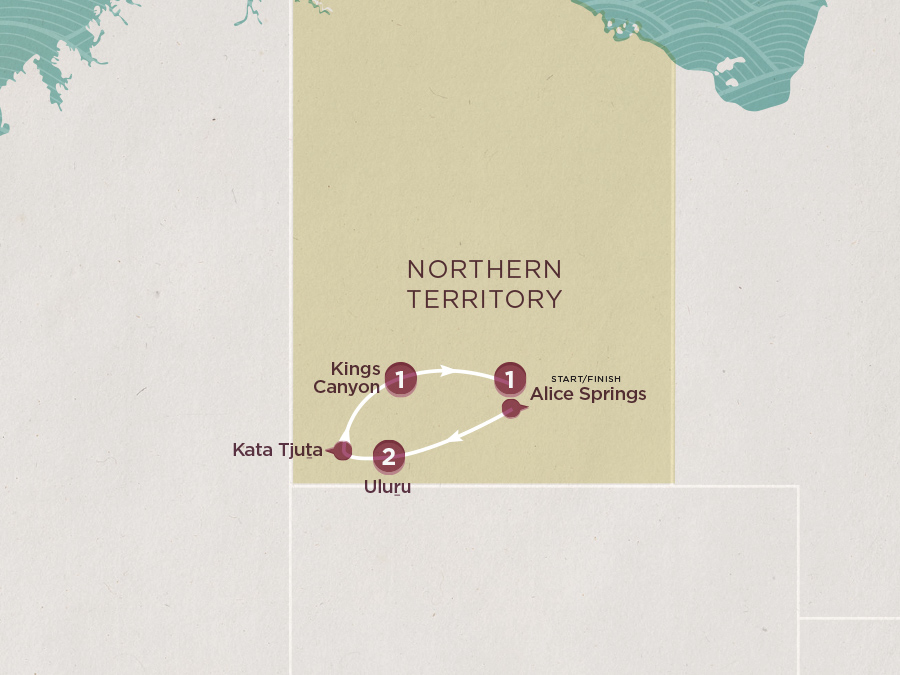 Rock and roll your way to Ulu?u for the best sunset and sunrise you'll probably ever see. Swap one natural wonder for another over these five days and see red… in the best possible way with the utterly stunning red rock landscapes. Stargaze, BBQ, hike through canyons and gaze at water holes. This is one Outback trip you won't be forgetting in a hurry.
Day 1: Alice Springs to Uluru-Kata Tjuta National Park
Hit the red ground running as you meet the group and head into Yulara (the gateway resort to Uluru). We're off to visit the sacred monolith itself this afternoon, with a guided walk on the cards. Later, raise a glass of bubbles as we watch the glow of the sunset morph through 50 shades of red. Then: hone your Aussie BBQ skills and cook your own steak (or veggie burger). Welcome to Australia, mate!
Day 2: Uluru-Kata Tjuta National Park
Forgive the early hour, but this is a sunrise you'll want to see (trust us). Later on, we'll get a sense of the immense scale of Uluru with a base walk. Gear up for the optional activities today - we're talking scenic helicopter rides, camel rides and segway tours.
Day 3: Uluru-Kata Tjuta National Park to Kings Canyon
After breakfast, get ready for some soul searching - we're off to explore the heart of sacred Kata Tjuta with a walk through the Valley of the Winds. Next: prepare to live the life of a jolly swagman as we bed down in custom swags (think: the ultimate portable sleeping unit) in Kings Creek Station. Keep an eye out for shooting stars, and don't forget to make a wish! Please be aware that in winter months (May-Sept), nighttime temperatures can drop to near 0 degrees so warmer clothing will be required for the night sleeping in the swag. Please note that the twin / double / or single upgrade is not applicable to the Overnight Swag Night at Kings Canyon.
Day 4: Kings Canyon to Alice Springs
Get your hiking boots on! This morning we'll be tackling the hardest part of the famous Rim Walk in Kings Canyon (aptly named 'Heart Attack Hill'). Believe us, it's worth the effort! We're talking age-old cycads, eroded dome shapes, a visit to The Lost City… and that's not even the best part. The sheltered valley and waterhole of the Garden of Eden will make today even more awesome. After a stop off to grab some lunch, we'll head back to Alice Springs.
Back in Alice Springs, we'll have the chance to explore the town centre. Then: time to say a fond farewell to your travel mates. This is the end of the road (for now).
Accommodation //= ArrayHelper::getValue($detail, 'description') ?>
2 nights in hostels, 1 night in a swag, 1 night in a hotel
Meals //= ArrayHelper::getValue($detail, 'description') ?>
Crew //= ArrayHelper::getValue($detail, 'description') ?>
Transport //= ArrayHelper::getValue($detail, 'description') ?>
Modern air-conditioned vehicle
Optionals //= ArrayHelper::getValue($detail, 'description') ?>
The prices of optional activities offered on this trip change regularly. When prices are listed, they should be used only as a guide.
Australia - Uluru
Scenic Helicopter Flight from: AUD 150
Field of Light: AUD 43
START
Duration
end
seats left
savings
price
Currency Conversion Help
To convert our prices, select a currency from the drop-down. We will show you the estimated price in your selected currency based on our most recent available exchange rate. Although you are able to view the currency of your choice, your card will be charged in GBP (with the exception of some Low Cost Carrier flights and some hotels). Final conversion rates to your local currency will be performed by your credit card issuer, and may differ from the estimates shown. Some banks may impose fees for cross-border transactions. Check with your credit card issuer to see if fees apply.