Ask a question
Download Brochure
Youth
East Coast Encompassed: Sydney to Cairns
Youth
East Coast Encompassed: Sydney to Cairns
Youth
East Coast Encompassed: Sydney to Cairns
Youth
East Coast Encompassed: Sydney to Cairns
Youth
East Coast Encompassed: Sydney to Cairns
Youth
East Coast Encompassed: Sydney to Cairns
Youth
East Coast Encompassed: Sydney to Cairns
Youth
East Coast Encompassed: Sydney to Cairns
Youth
East Coast Encompassed: Sydney to Cairns
Youth
East Coast Encompassed: Sydney to Cairns
Youth
East Coast Encompassed: Sydney to Cairns
Youth
East Coast Encompassed: Sydney to Cairns
Youth
East Coast Encompassed: Sydney to Cairns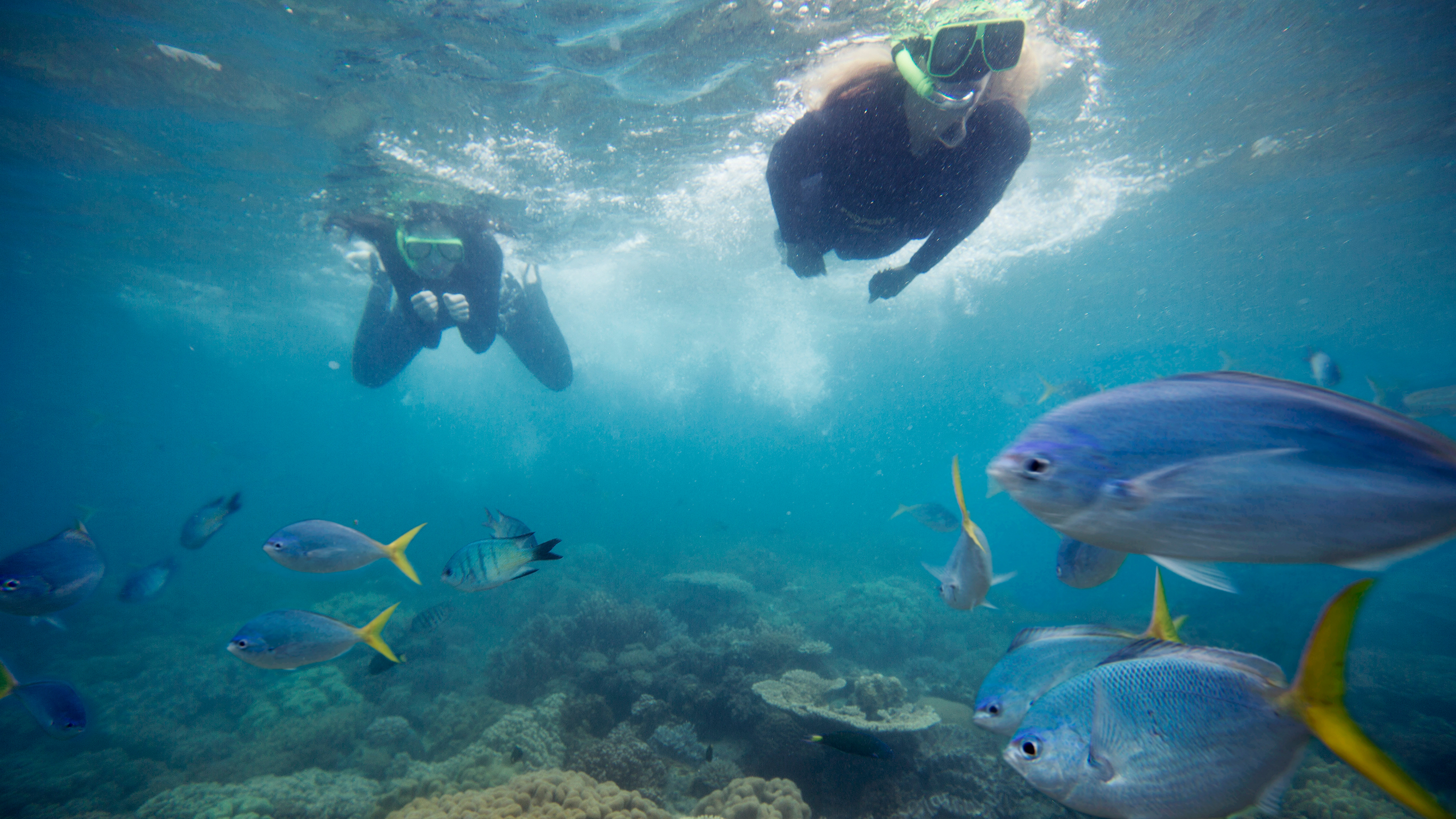 Island hop by yacht through the Whitsunday Islands, zip over dunes in a 4x4 on a remote sand island, sleep on the banks of the Noosa River
Now's the time to explore Australia on your terms with this tour that's affordable for young travellers. Rugged landscapes, crashing surf, and Indigenous culture stretching back through time — Australia's East Coast possesses a truly otherworldly allure. This trip offers you a comprehensive, authentic, and bank account-friendly experience in one of the country's most popular regions. Raw thrills and refined pleasures abound out here. In the space of a few days, you'll sample wines in the Hunter Valley, snorkel the Whitsundays, and catch a few waves. When people back home ask what you did on your trip, just tell 'em: "Everything."
There are no planned activities during the day, so check into the hotel and explore the city. If you arrive early enough, head down to the harbour's edge to 'The Rocks' historic area and the Opera House.
Opt to pre-book the "Sydney Bridge Climb" or "Sydney Adrenaline Bundle" activity on the checkout page ahead of time, to include one of these optionals on your tour.
Wave goodbye to Sydney as the group travels to Spot X Surf Camp, hidden away in beautiful Arrawarra along the North Coast. Get ready for cuteness overload because you'll be stopping at the Koala Hospital in Port Macquarie on the way to learn all about the conservation efforts being made to protect this unique native Australian animal. Snap a couple photos for the 'gram' and enjoy the coastal scenery that awaits.
As the sun rises along the ocean hit the beach for an included surf lesson with Spot X. Located in one of the most beautiful stretches of coastline in the country they are completely devoted to the surf lifestyle. Spend some time in the sun and laughing in the waves with your travel tribe before heading out on a kangaroo trek. Then it's time for a free afternoon to enjoy your surroundings. Soak up views of Solitary Islands Marine Park, embark on a rockpool scramble to look for fish traps and sea creatures, or wander over to Mullawarra beach for a picnic. Your only real job today is to have fun!
Day 5: Arrawarra/Byron Bay
After breakfast, travel the coastal road to the stunning surf and arts town of Byron Bay. Enjoy plenty of free time to experience the hippie surfing town.
The free time is yours to explore. Walk along the long stunning beach, play in the surf, or simply hang out at the Byron Bay Brewery and people watch. Want to get your adrenaline pumping? Go skydiving, try sea kayaking, or go on a dolphin watch. Opt to pre-book the "Byron Bay Ocean Kayaking" activity on the checkout page ahead of time, to include this optional on your tour.
Day 7: Byron Bay/Brisbane
Venture north with your group to the capital of Queensland; Brisbane. Pass by national parks, mountains, surfy enclaves, and endless stretches of sand bordering brilliant blue water. Feeling hungry? Grab a delicious pastry creation from the famous Yatala Pie shop, serving hungry patrons for 130 years. Word of advice… make sure those cameras are charged and ready. Experience a night out with the group in Queensland's capital.
Day 8: Brisbane/Noosa Everglades
Escape the city as you journey north up the coast to the Noosa Everglades. Get ready for an evening surrounded by stunning wilderness in one of the most pristine wetlands in the world. Relax as you cruise along this "river of mirrors" and chow down with a delicious Aussie BBQ lunch before further exploring your surroundings. Grab a kayak to get up and personal with the dark, tranquil waters as you paddle through ancient landscapes and sub-tropical rainforest. Then relax around the lake or hike one of the trails to further appreciate the serenity that seeps from this unique landscape.
Day 9: Noosa Everglades/Fraser Island
Once on the island, enjoy a 4x4 tour of Fraser Island, driving along over 100km of beach. Go for a swim in Lake McKenzie, and enjoy a rainforest walk along the way.
Day 10: Fraser Island/Airlie Beach
Your second day on Fraser Island comes with more free time to enjoy this paradise. In the morning continue exploring by 4x4 along wide stretches of pearly white beach and then duck into the shade of the forest to really appreciate the peaceful solitude that surrounds you. In the afternoon board an overnight train (get ready to post some 'grams) north to Airlie Beach, where more sand, sun, and fun await you.
Day 11: Airlie Beach/Whitsunday Islands
After arriving in Airlie Beach and some time for brunch, head to the marina and embark on a maxi yacht which will be our home for the next two nights. Set sail to a secluded cove in the Whitsunday Islands where you will drop anchor for the night.
Day 12: Whitsunday Islands
The sailing route today allows us to follow part of Captain Cook's route up through the Whitsunday Islands. Planeterra has partnered with Reef Ecologic, a nonprofit specialized in creating innovative solutions to challenges facing coral reefs. In the Whitsundays they are working to engage the community and travellers to restore the reef following the 2017 cyclone. Reef Ecologic's new coral gardens in the Whitsundays foster natural coral fragments to be replanted into the reef for a healthy marine environment.
Day 13: Whitsunday Islands/Airlie Beach
After three days at sea, we sail back to Airlie Beach for a night on land in a local beach hostel. Feel free to relax by the pool at the end of the day.
Day 14: Airlie Beach/Cairns
Wake up in the most laid-back beach town in Australia. Walk down the street in your thongs (flip flops) and swimwear to grab some delicious breakfast. If there's time take one more quick dip before boarding the train north to Cairns. Admire the scenery along the way and reflect on your journey with friends new and old.
Opt to pre-book the "Great Barrier Reef Snorkelling" activity on the checkout page ahead of time, to include this optional on your tour.
Head north to Cape Tribulation. Stop en route to explore Mossman Gorge and take an interpretive walk through the Daintree Rainforest.
Day 17: Cape Tribulation/Yungaburra
There's more to discover in Cape Tribulation today! Explore more of the rainforest or chill out poolside and catch some rays in the place where the Daintree Rainforest meets the Great Barrier Reef. Canter along the beach on horseback, trek to Mason's secret (croc-free) swimming hole, or reward that sweet tooth craving with some exotic fruit ice cream from Daintree Ice Cream Company. Then it's time to move on to Yungaburra in the Atherton Tablelands for the night. Think boho-boutiques, farm-to-table cafes, and eerie volcanic lakes as set off on foot to get to know this historical place.
Day 18: Yungaburra/Cairns
Today is full of possibilities! Stop at Lake Eacham, a volcanic crater lake (make sure you have those swimmers packed to take a dip), before continuing the adventure as you visit some of the best waterfalls in the Atherton Tablelands; Josephine Falls and Millaa Millaa Falls. Later on, go for a swim with your pals in the waters of Babinda Boulders. Grab a photo with the group, have a few laughs, plot your move to this gorgeous oasis, and then get ready to travel back to Cairns. Tour ends upon arrival.
Your G for Good Moment: Reef Ecologic Coral Restoration, Whitsunday Islands Your Welcome Moment: Meet Your CEO and Group Your First Night Out Moment: Connect With New Friends Your Hands-On Moment: Surfing Lesson, Spot X Your Discover Moment: Byron Bay Your Discover Moment: Cairns Your Big Night Out Moment: in Cairns, Cairns. Sydney orientation walk. Fraser Island 4x4 excursion. Entrance fees to Cooloola Recreation Area and Fraser Island in Great Sandy National Park. Noosa Everglades overnight experience. Noosa Everglades canoeing excursion. Whitsunday Islands sailing excursion (3 days). Whitehaven Beach visit. All transport between destinations and to/from included activities.
Meals //= ArrayHelper::getValue($detail, 'description') ?>
Eating is a big part of traveling. Travelling with G Adventures you experience the vast array of wonderful food that is available out in the world. Generally meals are not included in the trip price when there is a choice of eating options, to give you the maximum flexibility in deciding where, what and with whom to eat. It also gives you more budgeting flexibility, though generally food is cheap. Our groups tend to eat together to enable you to taste a larger variety of dishes and enjoy each other's company. There is no obligation to do this though. Your CEO will be able to suggest favourite restaurants during your trip. Please note that most included breakfasts will consist of cereal, milk, bread and spreads, juice, tea and instant coffee. Having a simple breakfast together most days allows us the flexibility to get on the road early and get from point A to B all that much faster.
Transport //= ArrayHelper::getValue($detail, 'description') ?>
Accommodation //= ArrayHelper::getValue($detail, 'description') ?>
Multi-share accommodation, on a single-sex basis (typically 4-6 people per room), is very common in Australia and is the way you will be spending most of your nights. We have specifically chosen unique accommodations to give local flavour to your trip. COUPLES: Please note that due to the types of accommodation used in Australia, couples will likely be split into separate rooms where we use multi-share hostels. Pending availability, couples may be able to pay extra while on tour to have their own room in some destinations. PRE/POST ACCOMMODATION: If booking additional nights before or after your tour, accommodation will be multi-share on a mixed gender basis.
Activities //= ArrayHelper::getValue($detail, 'description') ?>
Island hop by yacht through the Whitsunday Islands, zip over dunes in a 4x4 on a remote sand island, sleep on the banks of the Noosa River
Group Size //= ArrayHelper::getValue($detail, 'description') ?>
East Coast Encompassed: Sydney to Cairns
START
Duration
end
seats left
savings
price
Sunday
Oct 4, 2020
from Sydney
Sunday
Oct 21, 2020
from Cairns
Currency Conversion Help
To convert our prices, select a currency from the drop-down. We will show you the estimated price in your selected currency based on our most recent available exchange rate. Although you are able to view the currency of your choice, your card will be charged in GBP (with the exception of some Low Cost Carrier flights and some hotels). Final conversion rates to your local currency will be performed by your credit card issuer, and may differ from the estimates shown. Some banks may impose fees for cross-border transactions. Check with your credit card issuer to see if fees apply.