Ask a question
Download Brochure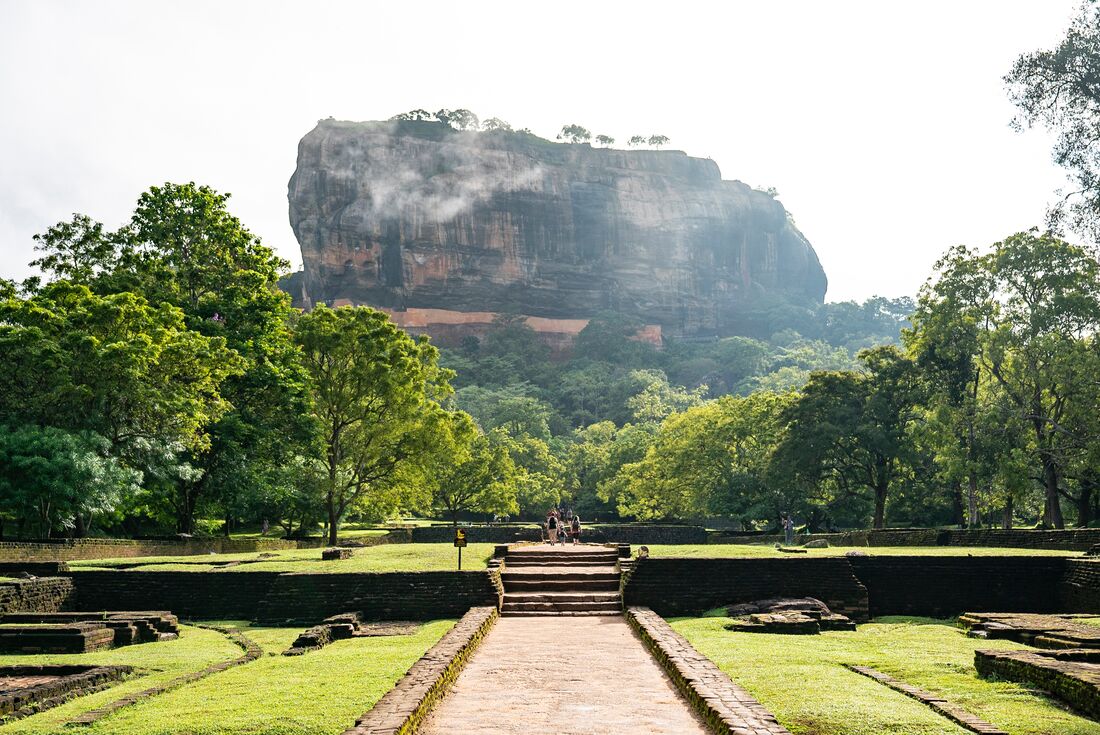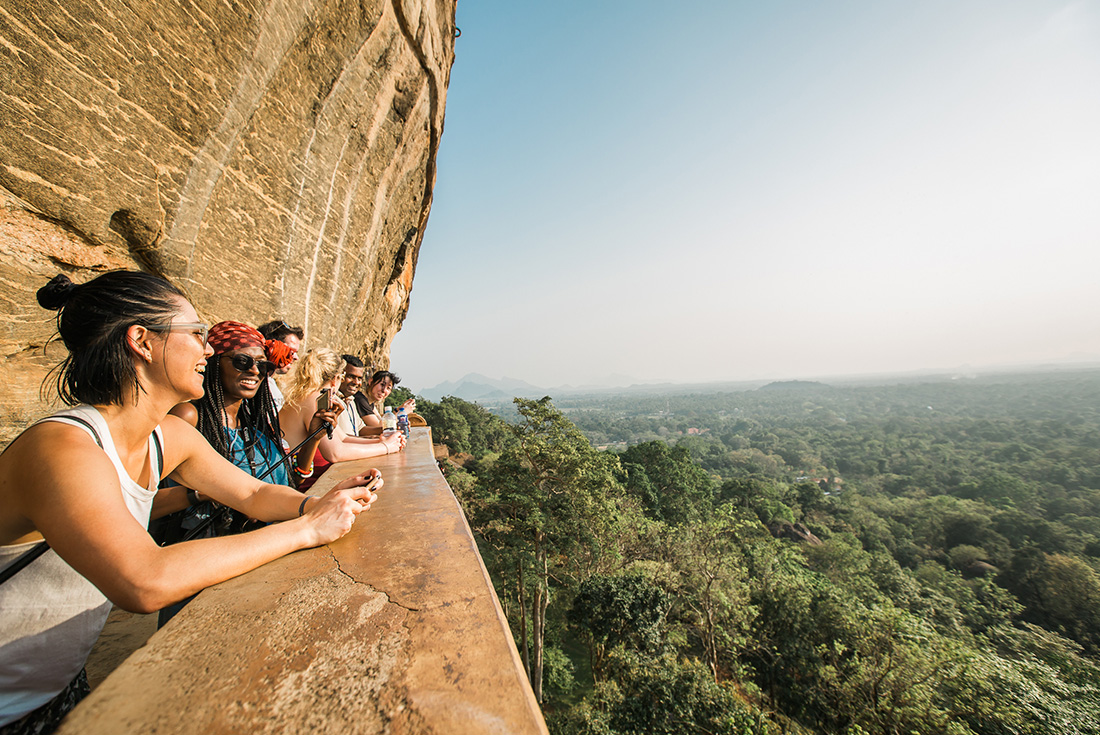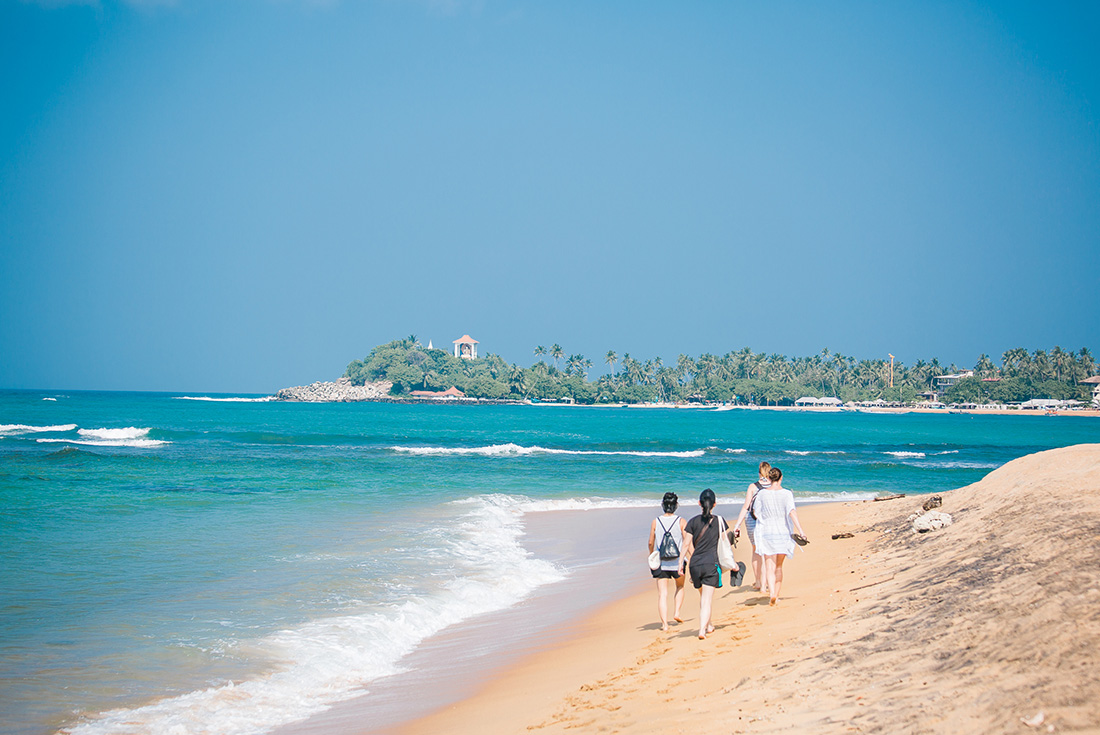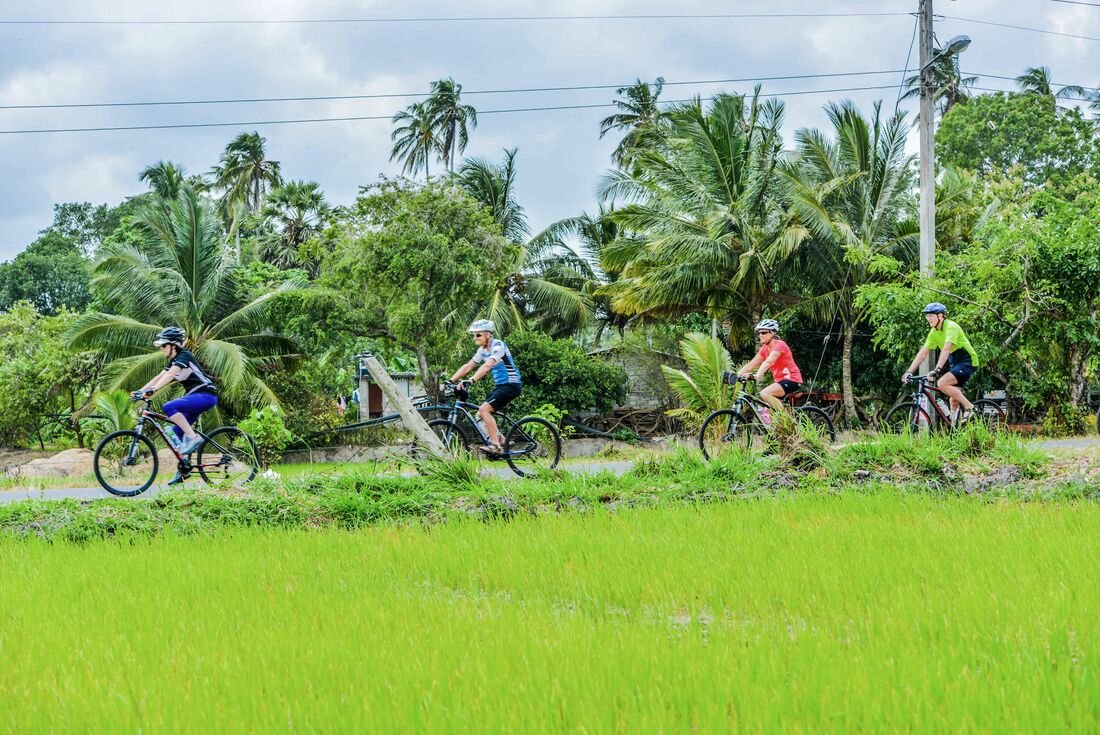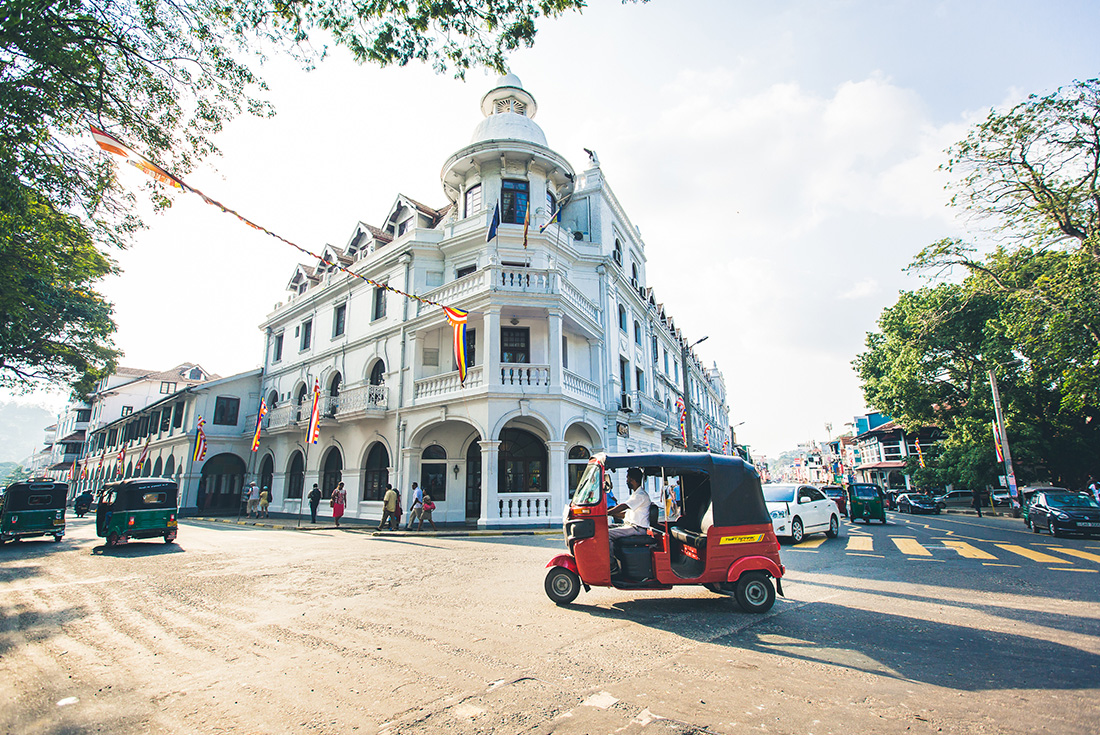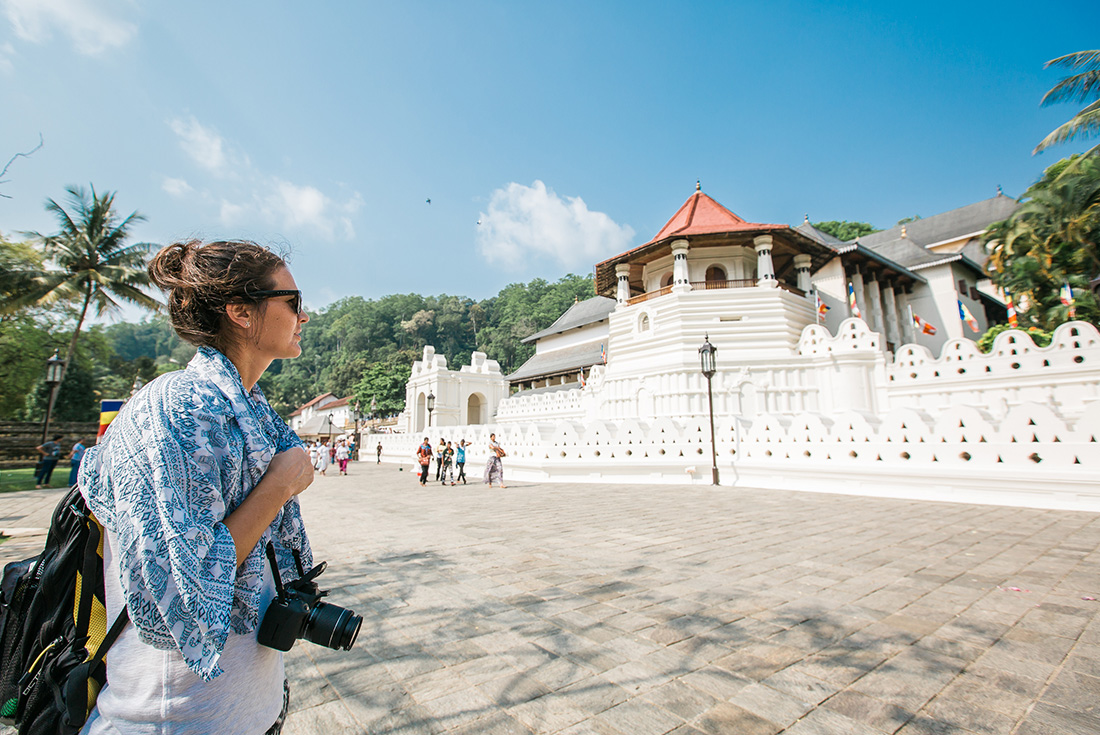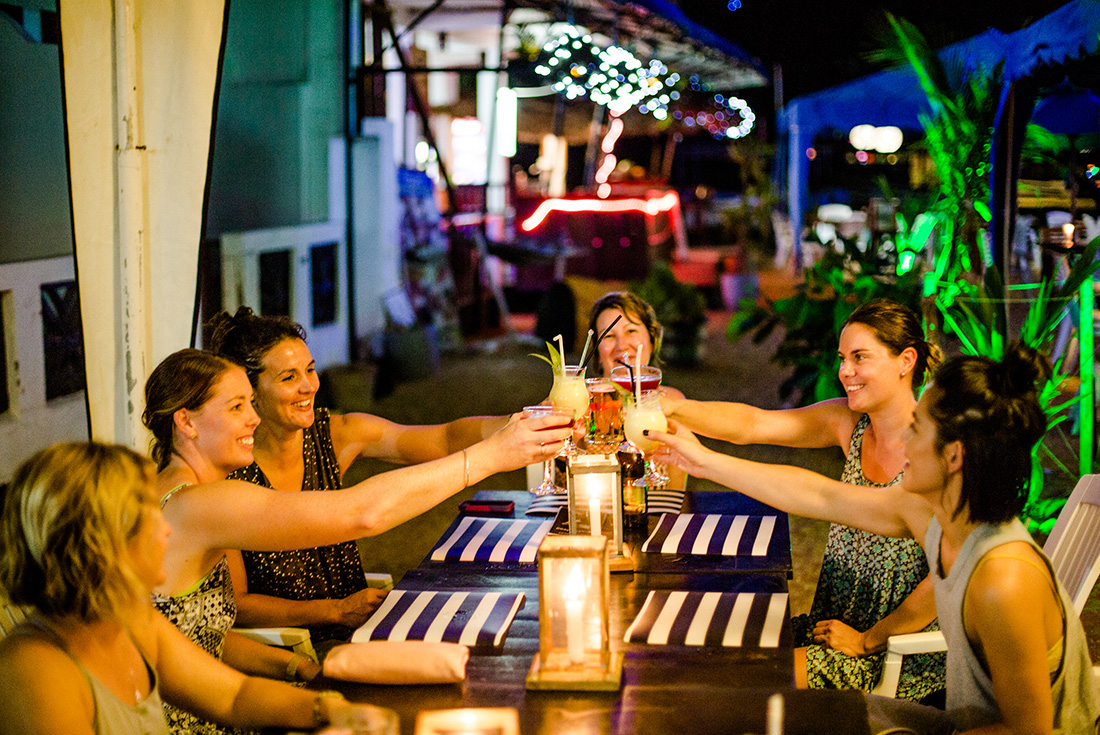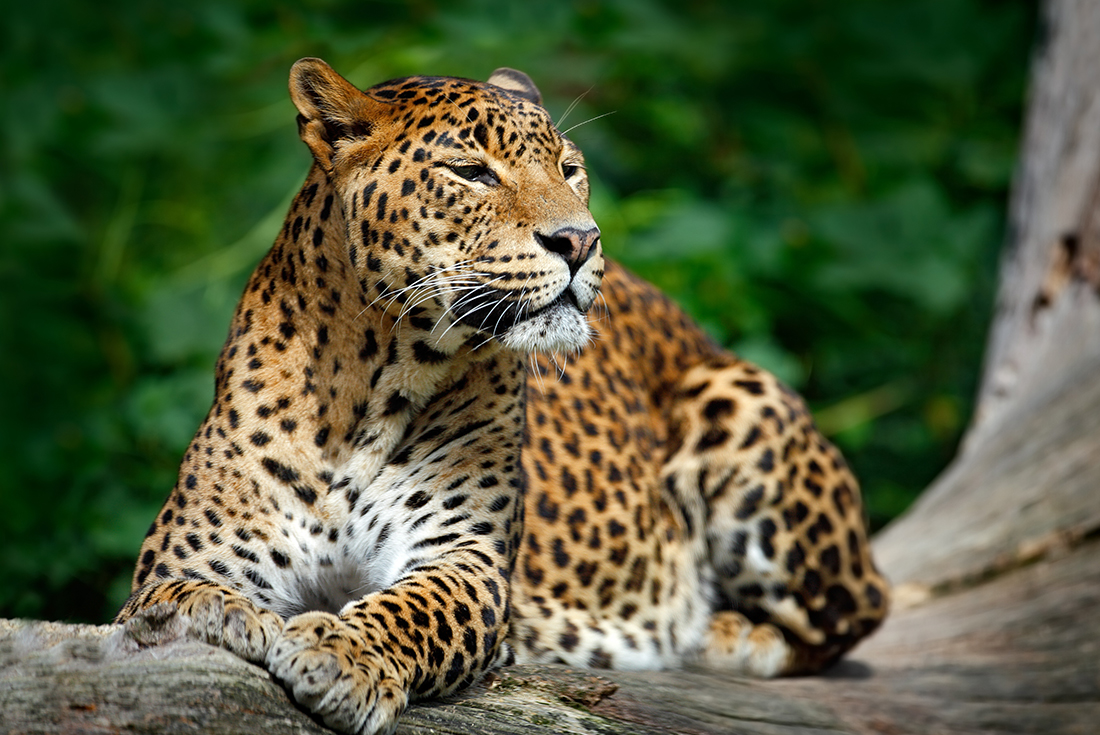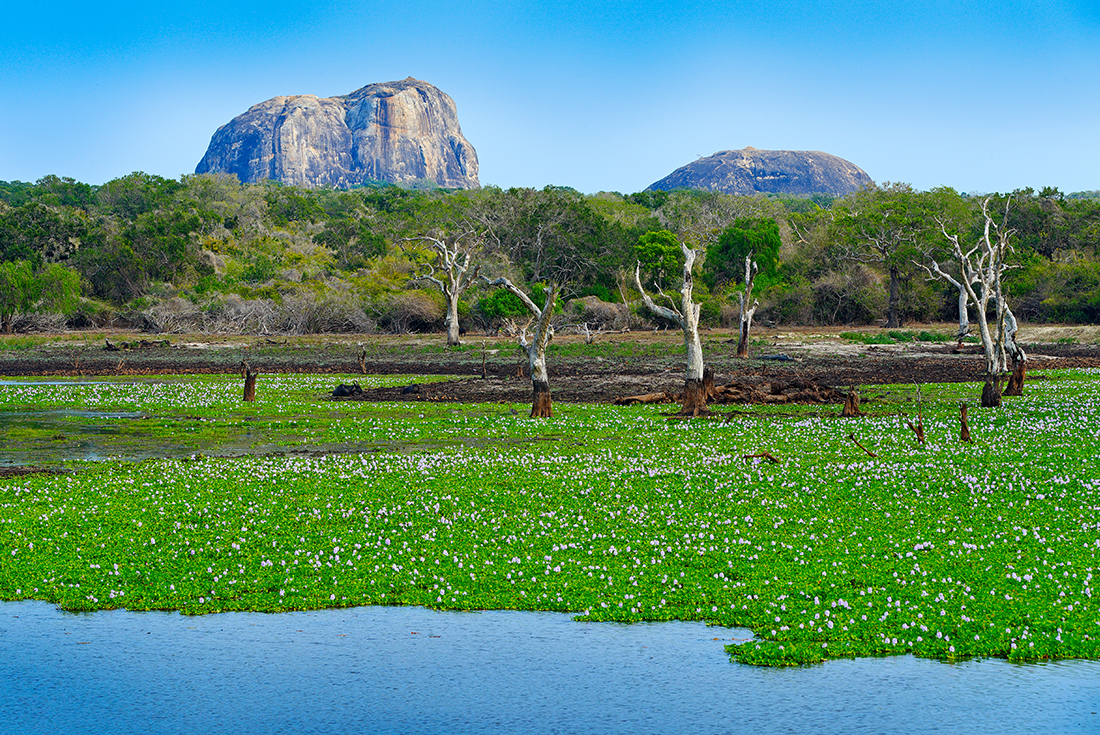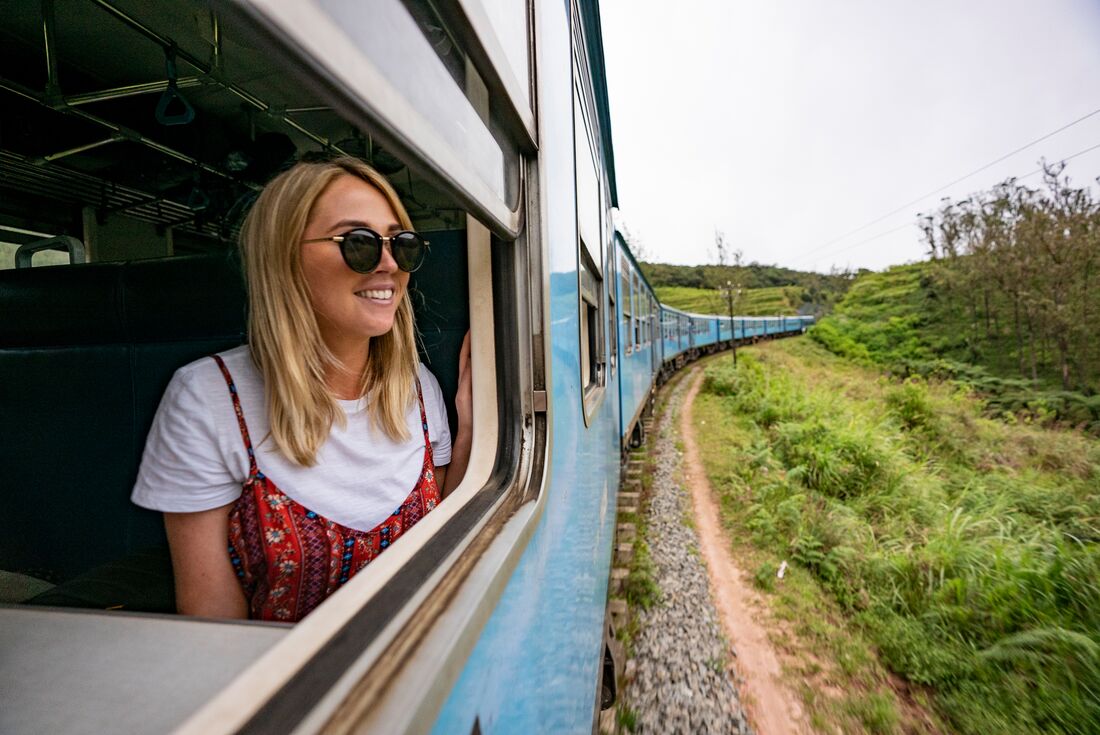 Cycling allows you to get closer to the real Sri Lanka, with a leopard-spotting safari and scenic train trip taking the sightseeing to the next level. 
From the sensational seafood of Negombo to the pulsing night markets of Colombo, Sri Lanka a feast for the senses. Optional 'food-crawls' in most locations connect you with the best local street food. 
Step back in time as you explore Sri Lanka's most important religious and heritage sites, including the Temple of Tooth Relic and Kataragama. 
Forget the coffee stops, this is Le Tour with a twist. Visit a tea factory in Giragama for a guided tour and taste of Sri Lanka's most beloved beverage. 
Relax and unwind along the famous sandy beaches and azure waters of Sri Lanka's southern coast.
Experience a fascinating slice of traditional culture with a Kandyan dance performance in Kandy.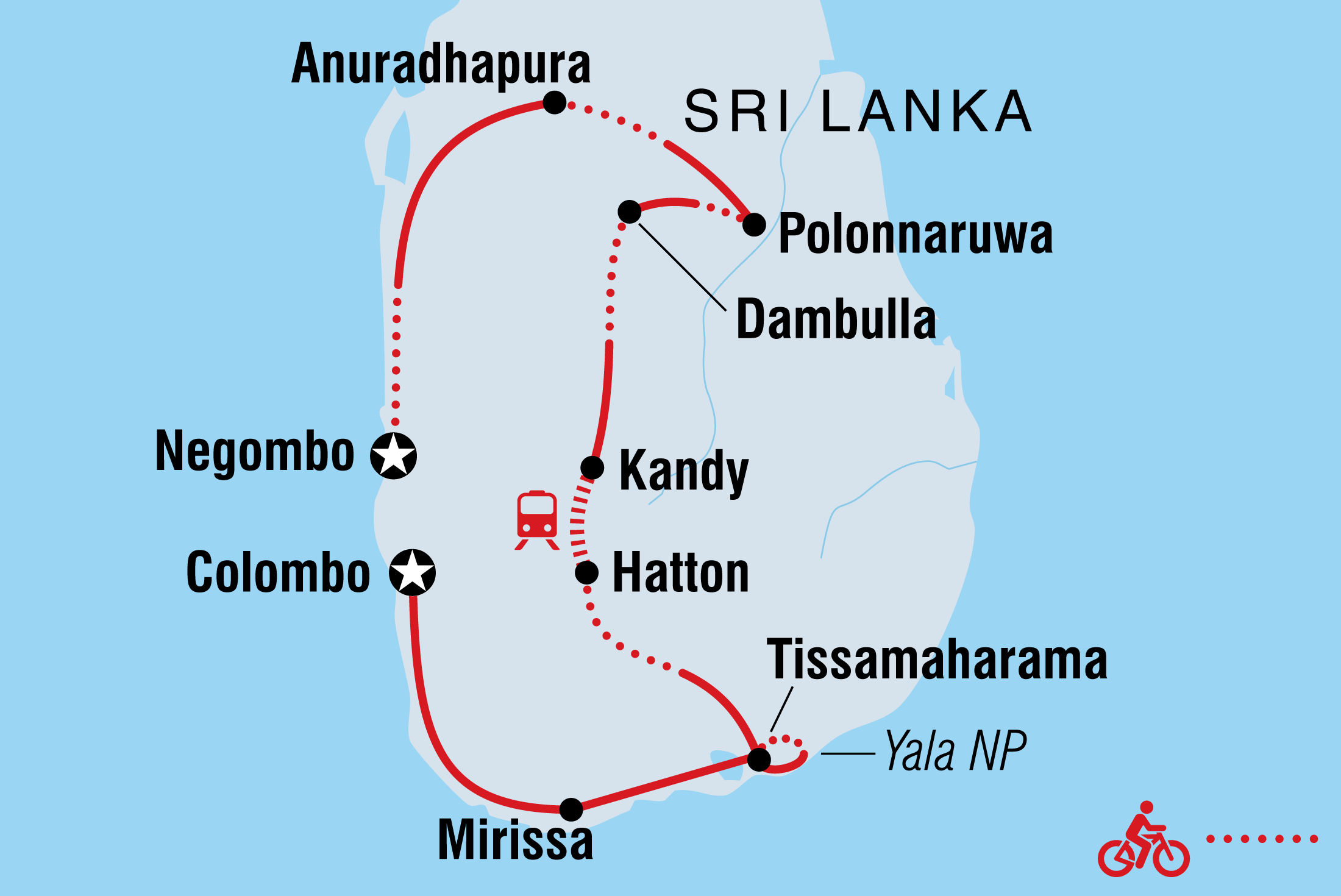 Ride through tea plantations, quaint fishing villages, and swathes of lush green jungle on this cycling adventure from Negombo to Colombo. Sri Lanka is gaining traction as one of Asia's most exciting new destinations and it's not hard to see why. With pristine coastline, ancient ruins, rugged peaks and wildlife-filled national parks, it's a dream for travellers who like to get active. In between two-wheeled treks, laze on the beach, ride the rails (a must in Sri Lanka), explore the country's premier Hindu and Buddhist sites, and taste the flavours of the tantalising night markets.
Ayu-bowan! Welcome to Sri Lanka. Your adventure begins in the town of Negombo which is located close to the international airport. You can arrive at any time today as there are no activities planned until the important welcome meeting at 5:30 pm. Please look for a note in the hotel lobby or ask the hotel reception where the meeting will take place. Those arriving early can get into the spirit of seaside Sri Lanka by observing the local fishing craft and perhaps feasting on fresh seafood. The beautiful surrounding countryside is best explored on a bicycle, which you can rent with help from the hotel reception. Notes: If you can't arrange a flight that will arrive in time for the welcome meeting, you may wish to arrive a day early so you're able to attend. We'll be happy to book additional accommodation for you (subject to availability). If you're going to be late, please inform the hotel reception. We'll be collecting your insurance details and next of kin information at this meeting, so please ensure you have all these details to provide to your leader. Riding distance: none
Rise early and enjoy some breakfast at the hotel. Start off with a test-ride through the city streets, from the hotel to the fish market. This gives you a nice insight into the daily working of the market and the dry fish industry. You will then cycle from Negombo to Chilaw (approximately 40 km). Along the way, you'll encounter quaint fishing villages, the scenic Dutch canal, coconut plantations and various tile factories. Sit down to a picnic lunch on arrival in Chilaw. Afterwards, hop aboard a coach and travel to Anuradhapura (approximately 90 km). Here you can settle into your hotel, relax and perhaps take a swim in the pool. You have the option of joining a 'food crawl' through the streets and markets of Anuradhapura – a great chance to sample some tasty local cuisine. Notes: The fish market in Negombo is closed on Sundays. Riding distance: approx. 40kms/25 miles, mostly flat with approx. 170m/560ft of elevation gain.
After breakfast, cycle to the UNESCO World Heritage site of Anuradhapura (approximately 20 km each way). Enjoy a guided bicycle tour of the ancient city. Among the ruins you'll see the sacred old Bo Tree – a spiritual reminder of the beginnings of Buddhism in Sri Lanka and the inspiration for Anuradhapura's great buildings. The ruins themselves are spread over quite a large area, with some in woodland settings and others appearing more cultivated with columns and ponds dotted about. While you're here you will visit the impressive Isurumuniya Temple. Pay a visit to the Anuradhapura museum, then enjoy a local lunch. Return to the hotel and enjoy free time for the rest of the afternoon. Riding distance: approx. 37kms/23 miles, mostly flat with approx. 130m/430ft of elevation gain.
Cycle from Anuradhapura to Ritigala, passing paddies, man-made water tanks and jungle patches (approximately 70 km). Sit down to some lunch along the way at a countryside kiosk. Make a visit to the beautiful Ritigala monastery, which dates back nearly 2000 years and is named after the mountain on which it sits.. After exploring the site and learning a thing or two about its local mythology, board a coach and travel to Polonnaruwa (approximately 60 km). Relax and unwind on arrival.  Riding distance: approx. 70km/44 miles, mostly flat with approx. 210m/690ft of elevation gain.
Saddle up for a morning ride to Polonnaruwa. For breakfast you'll dine at a local village house. Arrive at the ancient site of Polonnaruwa, the second oldest of Sri Lanka's kingdoms, and do some exploring. Visit the likes of Vihara temple, Parakrama statue and Siva temple while you are here. Then cycle to Diyabeduma (approximately 45 km). Marvel at the scenery along the way – sanctuaries, man made channels and farm lands – before sitting down to a picnic lunch. Next, travel from Diyabeduma to Dambulla by coach (approximately 40 km). Enjoy some free time on arrival. In the evening you'll visit the Dambulla wholesale vegetable market, where there's an option to join in on a food crawl. Riding distance: approx. 45km/28 miles, mostly flat with approx. 160m/530ft of elevation gain.
Day 6: Sigriya Rock & Kandy
This morning you will cycle approximately 15km from your hotel in Dambulla to Sigiriya, an ancient rock fortress perched among lush greenery that strikes an awesome pose against the skyline. Hike to the top and enjoy some well-earned breakfast, taking in the lovely views. Afterwards, jump back on your bike and pedal your way through spice plantations and pleasant countryside (approximately 35kms) and reward yourself with lunch at a spice garden near Matale. Enjoy a rest in the support vehicle as we drive the final kilometres to Kandy. In the evening you will sit down to a traditional Kandyan dance performance – a riveting insight into an age-old culture. Riding distance: approx. 50km/31 miles, mostly flat with approx. 150m/500ft of elevation gain.
After breakfast at the hotel you have the option to either head out for some extra cycling in the Hanthana Mountain Range (weather/time permitting) or stay in Kandy and explore. Later in the morning the group will head to Giragama (approximately 15 km) for a guided tour of a tea factory. This is a great chance to learn about how Sri Lanka's best-known beverage is made. You will also sample some of the delicious varieties on offer. Enjoy an afternoon of free time to relax. In the evening you will visit the Temple of Tooth Relic, the most important Buddhist site in the country. Explore the complex that surrounds it, then return to town for an included food crawl. Riding distance: none (optional cycling available)
Transfer to Kandy railway station after breakfast. From the station you will embark on a scenic train trip from Kandy to Hatton, then cycle from Hatton station to Maskeliya (approximately 40 km) through leafy tea plantations. For lunch, enjoy an authentic Tamil meal from a local kiosk. Check into your guesthouse, then relax. In the evening, there's an optional climb of Adam's Peak, a beautiful, conical, snow-capped mountain (2,243 m). The best time for this activity is from mid December to early May. Riding distance: approx. 38km/24 miles, light climb near the start then mostly downhill with approx. 380m/1250ft of elevation gain.
Enjoy a hearty breakfast before cycling down from Bogawanthalawa to Balangoda (approximately 55 km). This is one of the most beautiful stretches of road in Sri Lanka – it follows a path along the tea plantations and passes lush pine forests. Have lunch at Balangoda on arrival, then transfer from Balangoda to Tissamaharama (approximately 100 km). Riding distance: approx. 52km/32 miles, uphill at the start then mostly downhill with approx. 720m/2360ft of elevation gain.
Day 10: Yala National Park
Cycle from Tissamaharama to Kataragama after breakfast (approximately 20 km each way). The holy city of Kataragama is a colourful and vibrant religious centre that rivals Adam's Peak in terms of national importance. This is where the two-week Kataragama Festival attracts thousands, mostly Hindus, each year in July/August. Afterwards, take a jeep ride through the beautiful Yala National Park, home to elephants, crocodiles, and gorgeous waterbirds such as the great thick-knee. Yala also lays claim to one of the world's highest concentration of leopards. Riding distance: approx. 38km/24 miles, lightly undulating with approx. 170m/560ft of elevation gain.
After breakfast, cycle from Tissamaharama to Hambantota via the pretty Bundala National Park. After lunch at Hambantota, continue to Mirissa. Enjoy an afternoon of beach splendour in Mirissa. The beach itself is a long curve of sand with lovely clear waters for swimming – a great spot to watch the sunset. Consider cycling to nearby Weligama, where colourful fishing boats bring fresh fish to sell along the shore. The local cottage industry of lace products is also well worth a look. Riding distance: approx. 39km/24 miles, flat with approx. 60m/200ft of elevation gain.
Enjoy some time to relax with a free day that is yours to spend as you please. You might like to go whale-watching, which is more successful from November through to April. Later drive to Galle (approximately 50 km each way). Spend the evening exploring Galle, home to an impressive World Heritage-listed Dutch fort with extensive walls and many interesting old buildings. Enjoy a stroll around the historic fort and watch the sunset from the ramparts before driving back to Mirissa.  While the famous stilt fishermen casting lines from their traditional poles are an iconic sight unfortunately this activity has become a real tourist trap, with tourists expected to pay for the opportunity of taking a photo. We advise our travellers to use their best judgement before paying for a photo. Riding distance: none
Depart Mirissa after breakfast with a transfer to Colombo (approximately 3 hours). On arrival, check into your hotel and then take a city walk past the bustling Petta Bazaar, Independence Square, Parliament, and the National Museum. Your walk finishes with a shopping opportunity at the Barefoot fairtrade store. Here you can find a collection of handicrafts from around the country and support small cottage industries. Tonight there's an optional final group dinner to celebrate your journey. This comes in the form of a food crawl along the city's tantalising market stalls.  Riding distance: none
Your trip comes to an end this morning after breakfast and the hotel's check-out time is 11am. For those who are staying on and want to explore Colombo further, check out our Urban Adventure day trips. Riding distance: none
Food //= ArrayHelper::getValue($detail, 'description') ?>
While travelling with us you'll experience the vast array of wonderful food available in the world. Your group leader will be able to suggest restaurants to try during your trip. On our camping trips we often cook the region's specialities so you don't miss out. To give you the maximum flexibility in deciding where, what and with whom to eat, generally not all meals are included in the trip price. This also gives you more budgeting flexibility. As a rule our groups tend to eat together to enable you to taste a larger variety of dishes and enjoy each other's company. There's no obligation to do this though.
Accommodation //= ArrayHelper::getValue($detail, 'description') ?>
OCCASIONAL ALTERNATIVE ACCOMMODATION The style of accommodation indicated in the day-to-day itinerary is a guideline. On rare occasions, alternative arrangements may need to be made due to the lack of availability of rooms in our usual accommodation. A similar standard of accommodation will be used in these instances. TWIN SHARE / MULTI SHARE BASIS Accommodation on this trip is on a twin/multishare basis. Please note there may be times where facilities will be shared rather than ensuite and rare occasions when you share a room with passengers travelling on a different Intrepid trip than your own. CHECK-IN TIME Throughout the trip we request that our hotels prepare rooms in time for our arrival, especially if we're arriving prior to normal check-in time. However this isn't always possible which means we won't be able to check-in immediately on arrival at some hotels. Instead, we can store our luggage and explore our new destination. PRE/POST TRIP ACCOMMODATION If you've purchased pre-trip or post-trip accommodation (subject to availability), you may be required to change rooms from your trip accommodation for these extra nights. AIR CONDITIONING: Please note that while all hotels on this trip have fans, not all will have air conditioning.
Transport //= ArrayHelper::getValue($detail, 'description') ?>
While there are occasions we use local public transport such as trains, buses or taxis to cover long distances or attend non-cycling activities we predominantly use the bicycle as our main form of transport. On most of our trips we also have a support vehicle as secondary transport for travelling longer distances, avoiding hazardous areas to cycle, as a backup should we have any incidents and of course an option for those that would prefer not to cycle for an hour or a day. These vehicles range from a minivan in most regions up to a full sized coach or overland vehicle in others. Your main luggage is transported in the support vehicle Our support vehicle will closely follow us for the majority of rides we do (excepting small bicycle only tracks). To avoid the excess use of plastic we have a larger water bottle on-board from which you can refill your smaller cycling water bottles. You ca also leave your small day packs on board if you wish as you will usually have easy access to them along the way. INCLUDED BIKES We use 2018 Proformance (ACL 02) mountain bikes on this trip. An e-bike option (at additional cost) may be available on this trip. We have limited numbers of these bikes available and they are an 'on request' basis only. A request does not guarantee an e-bike, only a confirmed booking. Please ask your agent for more details at the time of booking. The e-bike that can be requested for this trip is a 2018 Proformance E-3 Max, and it is available in 3 sizes. Please request the size that matches your height: Small (153-165cm). Medium (165-185cm) or Large (175-190cm). BRINGING YOUR OWN BIKE While we're confident in the quality and suitability of the bikes we include, we do recognise that sometimes you just need the comfort of your own bike to enjoy the ride. If you are thinking of bringing your own bike on this tour please advise us at time of booking and take note of the below information. If you do choose to bring your own bike please note that we will not being carrying a spare bike for you. SUITABLE TYPE OF BIKE Although the surfaces of the roads we travel on is generally good there are occasionally gravel or potholed sections of road/track. As such, we recommend a 'mountain' or 'hybrid' style bike with plenty of gear selections for easy cruising. Please note that we usually cannot accept tandem bikes on our tours as often they are too large for our transport. In some destinations we are able to make an exception. Please ask your booking agent. For more details on the type of roads we'll be riding on see the 'Physical Rating' information. Please contact your booking agent if you have any questions about the suitability of your bike. BEFORE THE TRIP We recommend that you have a full service of your bike performed by a trained mechanic, to help minimise any issues you may have during the trip itself. Please also ensure that you have specific and adequate cover for loss, damage or theft for your bike under your travel, home contents or a specialist insurance policy. DURING THE TRIP Your bike will be transported in the same way as our included bikes, usually in the bike support vehicle or on the bike trailer. While we endeavour to take the best care we can, you should recognise that transported bikes do get the occasional bump or scratch along the way. The same applies when we take other forms of transport, such as a train, where we are unable to pack the bikes ourselves.Your bike will also be secured in the same way as our included bikes. Please note this can occasionally be outside (where the bikes are locked together). While our mechanics can usually assist with minor repairs, you are responsible for the safety and upkeep of your own bicycle. This includes conducting regular safety checks of your bike during the trip and cleaning your bike. In addition, any parts that require replacing are your responsibility. Most destinations have access to only limited spares along the way, and access to bike shops can be days apart. Therefore, please ensure you bring any spare parts that you may require (especially specialist parts). In order to reach our destination it is necessary for us to travel via various modes of transportation, including planes and trains. Please be aware that any extra costs involved with transporting personal bikes are your responsibility. This includes (but is not limited to) additional transport costs and customs/import fees. TRANSPORTING YOUR BIKE TO/FROM THE DESTINATION Your preferred airline should have no problem carrying your bike, but many will charge an extra fee. Contact them before departing to discuss their arrangements for transporting bikes. A well-padded bike box obtainable from a bike shop is usually the best method of plane transportation. We recommend that you accompany your bicycle on the flight. Unaccompanied bicycles have been known to spend some extra days in the hands of customs authorities. Please also note that many taxis are not large enough to transport a bike box/bag so you may be delayed waiting for a suitably sized vehicle. INCLUDED OR HIRE BIKES: CONDITIONS OF USE You must not mistreat the bicycle and must return it in the same condition as when you received it (excepting ordinary wear and tear). You should immediately inform the supplier in the case of breakdown or loss. The provider is entitled to charge for any damage caused to the bicycle during the period of hire. You must also make sure that the bicycle is secured when not in use. If the equipment is lost or stolen you may be liable for the replacement value of the bicycle. The bicycle remains the property of the supplier and you may not sell, rent out or part possession with the bicycle. You must not use the bicycle while under the influence of alcohol or drugs.
START
Duration
end
seats left
savings
price
Saturday
Dec 18, 2021
from Negombo
Saturday
Dec 31, 2021
from Colombo
Currency Conversion Help
To convert our prices, select a currency from the drop-down. We will show you the estimated price in your selected currency based on our most recent available exchange rate. Although you are able to view the currency of your choice, your card will be charged in GBP (with the exception of some Low Cost Carrier flights and some hotels). Final conversion rates to your local currency will be performed by your credit card issuer, and may differ from the estimates shown. Some banks may impose fees for cross-border transactions. Check with your credit card issuer to see if fees apply.