Ask a question
Central American Adventure

Discover Central America, a land of mysterious Maya ruins, active volcanoes, idyllic beaches and emerald jungles. See the sights and engage in a wide range of optional activities across seven different countries on this epic Latin adventure
A few days on Caye Caulker provides the perfect opportunity to enjoy laidback island vibes and exceptional snorkelling on the nearby reefs.
A homestay in San Jorge La Laguna invites you to connect with a local family. Sit down for breakfast and dinner with your hosts and work on improving your Spanish
Experience an El Salvador of the past in the colonial town of Suchitoto, before savouring the blissful present on the black-sand beaches along its Pacific Coast
Hike, cycle or zip-line through the steamy cloud forests of Monteverde in Costa Rica. Get up close to nature among the hundreds of mammal, bird and plant species that call this place home
Encounter Costa Rica's famous Arenal Volcano in La Fortuna. Whether it's reflecting back at you in the lake or heating the thermal pools you're stewing away in, the magnificent volcano always makes its presence felt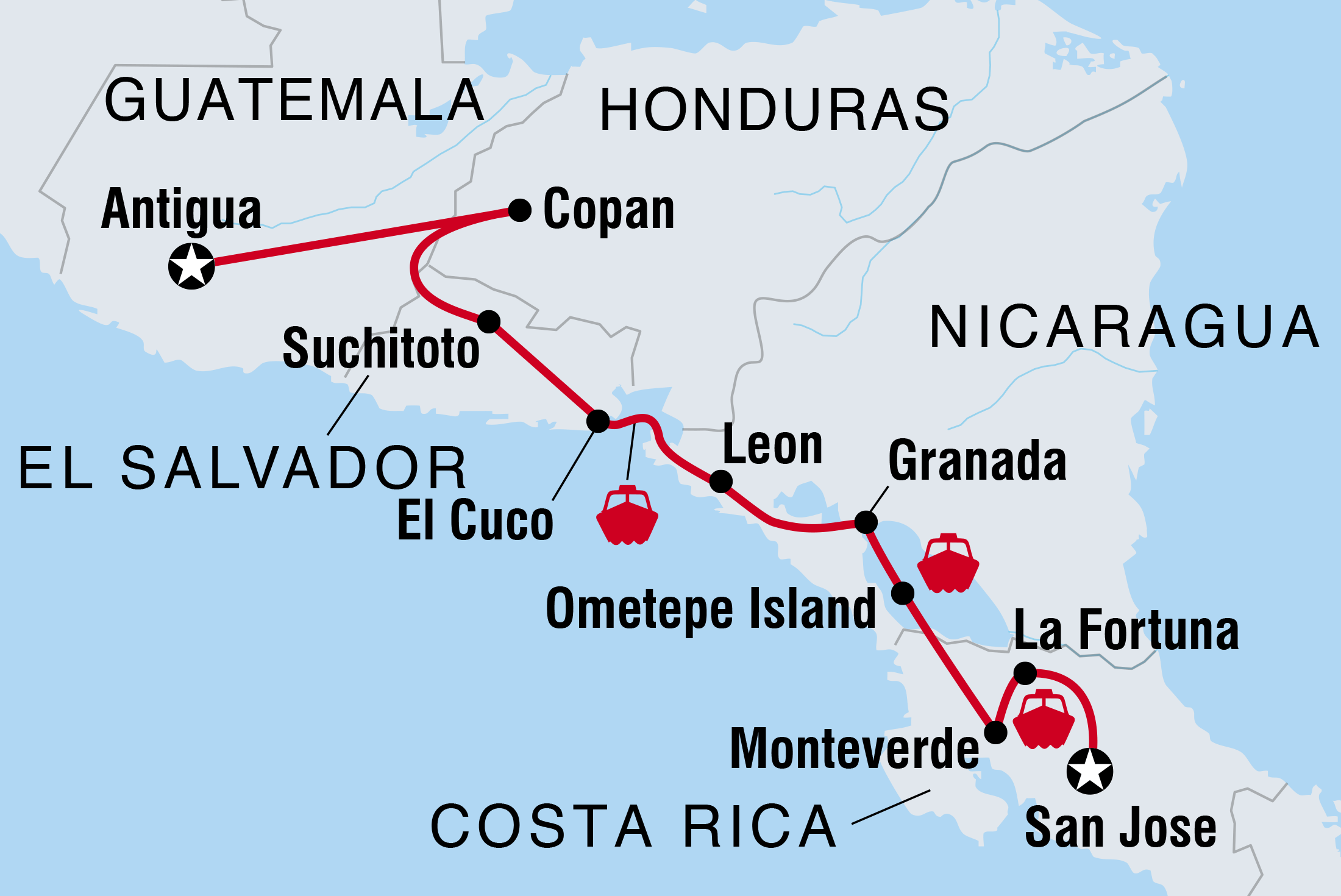 Explore incredibly colourful worlds - both above and below the water - on an epic journey from the sunny beaches of Mexico, through jungle and Caribbean coastline to the volcanic mountains of Costa Rica. Travel to Belize and discover a vibrant marine playground in Caye Caulker, walk through the steamy Monteverde cloud forest and visit the famous Tikal pyramids, arguably the most stunning of the Guatemala ruins. Learn the secrets of the ancient Mayans and pass through jaw-dropping scenery on this Central American adventure.
Itinerary
//=Yii::t('app', 'Download PDF')?>
Hola! Welcome to Mexico! Your adventure begins with a welcome meeting at 6 pm today. Please look for a note in the hotel lobby or ask reception where it will take place. If you're going to be late, please inform the hotel reception. We'll be checking your passport details, insurance details and next of kin information at this meeting, so it's important that you arrange a flight that will get you there in time. If you want to fly in a few days early so you can spend some more time in Playa we may be able to assist with securing extra accommodation, so ask your booking agent. If you are lucky enough to have extra time this beachside playground, why not use your time snorkelling in fresh water rock pools (called Cenotes), strolling along the white sands or reef diving on Cozumel. Check out the full range of recommended optional activities below for more inspiration. After the welcome meeting tonight, why not head out for a cocktail and a meal with your new travel buddies.
Leave behind one paradise for another, quieter version. Travel south by local bus to Tulum, where white sand beaches and Maya ruins await after a mere one-and-a-half-hour journey. Take an orientation walk with your leader around the small town when you arrive, then head to the cliffs or the shore to enjoy the sunshine at your own pace. The famous ruins that hug the cliff edge are no longer a well-kept secret, so if crowds aren't your thing it's best to get up early tomorrow to beat them. Maybe grab a snack and a beer at a beach shack, then hit the sand and the water (rinse and repeat). In the evening, maybe grab a few of your fellow travellers and find a spot to watch the sunset with a margarita in hand.
Today is as clear as the waters of the Caribbean, so you can spend it how you like. Perhaps start your morning by renting a bike and exploring on two wheels. Then maybe head to Akumal Bay for a change of scenery or check out one of the many fresh water rock pools known as cenotes. You can buy an organised tour to each of these attractions or venture off on your own as both are easily accessible using local transport. Cenote Dos Ojos is perhaps the most spectacular of the natural pools, but it be prepared for a three-kilometre walk each way from the local bus drop off. Remember, pack plenty of water and snacks so you don't get caught out! If you haven't already, you might want to take the opportunity to head to Mexico's most famous archaeological site, Chichen Itza, which is about a two-hour drive away. Chat to your leader about what's on offer and how to organise optional activities.
Bid adios to Mexico early this morning and head south to Belize. Be prepared for a long day of travel on the road without a chance to stop for lunch, as the total driving time including the border crossing will take around eight or nine hours. First, travel to the town of Chetumal by public bus (3.5 hours approximately). Then jump on a local bus the border (20 minutes), undertake border formalities, then board the same bus to Belize City (3 hours approximately). Once in Belize City take a water taxi to Caye Caulker (1 hour). Expect to arrive on Caye Caulker by 6 pm. Phew! What a day, but trust us, it's worth it. Perhaps go for an evening stroll to get your bearings on the island, then if you have the energy why not hit a beach bar and unwind. Belize is the only English-speaking country in Central America, which will make chatting with locals much easier.
Good morning and welcome to heaven! Today is free for you to explore the island and surrounds or simply relax. Whatever you choose to do, it's bound to be impossible to keep the smile off your face. If you feel like snorkelling, ask your leader about organising a trip to the colourful coral reef nearby, or perhaps head further afield to Hol Chan Marine Reserve, home to the world's second-longest coral reef. Manatee spotting is one option nature lovers should consider, as the opportunity to encounter these gentle giants is a special one. Of course, you could always take a stroll and find a swaying palm tree with your name on it. They make the perfect place to nap, read a book and soak up the island vibes.
What's better than one day in paradise? Two, of course! Wake up when you like, because you've got another free day. Like any good seaside Eden, Caye Caulker is home to super fresh seafood, which you can dig into with your feet planted in the sand at one of the many 'floor free' outdoor restaurants. The islands famous lobster are available between 15 June and 15 February, and you can expect to pay far less than at home but more than your average island meal. Some of the best meals can be found by the roadside, so why not grab some grilled shrimp and a rum and coke made with fire water to really get into the spirit.
From the islands to the highlands, today you'll bid farewell to Caye Caulker and catch a ferry to Belize City (one hour) and then take a local bus to San Ignacio (three and a half hours). Local buses in Belize are a little more basic and crowded than you may have experienced elsewhere in Central America. Get ready for a stop-and-go experience on the journey; there are very few official bus stops in Belize, so the bus will stop as required by roadside passengers. On arrival, your leader will take you walking tour of San Ignacio and its twin sister Santa Elena, which will give you a sense of how vibrant the local Garifuna and Maya communities are. Perhaps tonight head out in search of a Maya-style dish like cochinita pibil (slow-roasted pork marinated in citrus).
You have a full day at your leisure to discover San Ignacio. This beautiful town is surrounded by fast flowing rivers, waterfalls and Maya ruins, making it the ideal base. One optional activity that will appeal to history buffs is a day trip to Xunantunich, an impressive Maya ceremonial site positioned on a hill that overlooks the countryside. Getting to the site is half the fun, as you'll need to take a hand-cranked ferry to cross the river. Also nearby is the cave of Actun Tunichil Muknal, a living museum of Maya relics. Wade through cool waters to find ceramic pots and crystallised skeletons preserved by the calcium-rich environment of the cave for over 1400 years. Easily spooked? Maybe you'd prefer the a cave with fewer (as far as we know) skeletons, like the one in Mountain Pine Ridge. In the late afternoon, the barbecue stalls of Santa Elena start to set up for the dinner rush. It's only a 15-minute walk, so consider wandering over to enjoy a juicy chicken leg and a chat with the locals. 
Rise and shine for an 8 am taxi ride to the Belize-Guatemala border. Once you've crossed over, board a bus to Tikal National Park (approximately 2.5 hours). In Tikal there will be time to buy lunch before visiting the impressive archaeological site. Towering above the jungle, the five granite temples of Tikal are an imposing sight and one of the most magnificent Maya ruins. Hidden in the evergreen forest are a maze of smaller structures waiting to be explored. The energetic can climb to the top of the ruins for spectacular views over the canopy and the chance to spot toucans, macaws and other colourful birds. Choose to explore on your own or pay a little more for a guided tour (or maybe see the site from above on an optional zip-line ride). Tonight, set up the tents and mattresses and spend some time under the stars. The weather is always warm in this part of the world but a thin blanket is provided for extra comfort. There are also basic shared bathrooms and showers at the camp.
If you can't get enough of Tikal, you have the option to visit the site again in the (very) early morning at your own cost before departing at 8 am to Flores. It's just a one-hour ride away, and on arrival your leader will take you on a walking tour of the island of Flores. Continue by private minivan to Rio Dulce (approximately 4 hours). On arrival in Rio Dulce, transfer to the hotel by boat. The easiest way to get back into town is also on the water, a journey which can be organised through the hotel. Alternatively, a 40-minute jungle walk will get you there. The hotel is a great place to relax and look over the water, with reasonably priced meals and drinks served in the hotel restaurant. Now that you are back in a Spanish-speaking nation, why not join an informal Spanish lesson put on by your leader? Muy bien!
With plenty of free time today, consider taking advantage of some of the optional activities available. Maybe take a scenic boat trip down the river to the coastal enclave of Livingston for a taste of Creole-Caribbean culture. This laidback town on the Caribbean coast feels very different from the rest of Guatemala thanks to its Garifuna population. Or perhaps go boating on the lake, take a tour to spot local manatees or explore nearby San Felipe Fort.
Leave the 'Sweet River' behind and travel by private minibus to the city of Antigua, a journey which should take around eight or nine hours, allowing time for lunch. The road between Rio Dulce and Guatemala City is one of the busiest in the country. Traffic is slow, there are frequent road works and many, many, many (seriously) slow trucks. Be armed with patience, music and a good book and the journey will be easier to handle. Spend the night in Antigua before heading to Lake Atitlan tomorrow. Though there's not much tie in Antigua today, you owe it to yourself to reward you patience with a tamale – meat and dough steamed in a corn leaf. You could also give the pepian a try, which consists of a rich dark sauce served with vegetables and meat (usually chicken). You may also want to take this time to purchase a few snacks for your time at the homestay on Lake Atitlan as the meals there can be very basic. 
Day 13 Chichicastenango / San Jorge La Laguna
Be up early and ready for an 8 am departure. Travel by private transport for two and a half hours on winding roads to Chichicastenango. Home to perhaps the most colourful market in the country, on Thursdays and Sundays locals come from the surrounding villages to sell their wares and the streets are lined with stalls offering multi-coloured textiles and fresh produce. After doing a little shopping at the market, head to San Jorge La Laguna, a small Maya village overlooking Lake Atitlan (about 1.5 hours). Arrive in San Jorge La Laguna, meet your host family and start getting to know each other. The group may be split in twos or threes, depending on how large it is. Locals in San Jorge La Laguna are both very friendly and very shy. In order to make the most of this experience, it may take a bit of effort from your side to break the ice first. Draw on your newly learnt Spanish and get ready for some serious hand signals. Houses in San Jorge La Laguna are very basic. Your room may only consist of a couple of beds with clean bedding, and the bathroom will most likely be outside your room and shared with the rest of the family. The mother of the family will cook dinner and breakfast for you and the meals can be very basic but filling, consisting of corn, rice and beans. 
Day 14 Lake Atitlan / Panajachel
Say goodbye to your host family this morning and move on to the neighbouring town of Panajachel. Located on Lake Atitlan with distant volcanoes looming in the background, Panajachel has a thriving market, good eateries and many water-based activities to enjoy. Once you arrive in 'Pana' your leader will take you on a brief walking tour of town so you can get your bearings. The rest of the time is free for you to explore. Why not go for a swim, hike to San Pedro volcano or kayak on the lake, there aren't many places in the world that serve up active adventure in such a beautiful locale. The surrounding area is also dotted with villages which can be reached on foot or by boat. Watch women weaving at Santa Catarina Palopo or explore the colourful markets of Santiago Atitlan. 
Morning! Hit the road again at 9 am and make the three-hour journey back to Antigua by private vehicle. In 1773 the city was destroyed by an earthquake, but many of the colonial buildings have been carefully restored and the architecture from its glory days can still be seen. Your leader will take you on a walking tour of Antigua including Cerro de la Cruz lookout, the local market and the chicken bus station next door, where the colourfully-decorated American school buses park. The rest of your time in Antigua is free for you to explore at your own pace. If you fancy a spin on the dance floor and want to learn some moves, Antigua is the place to be. Many dancing schools offer hourly lessons so you'll be able to perfect your moves. As always, ask your leader for details.
Enjoy a free day exploring this photogenic city. Perhaps check out the ChocoMuseo located on 4th Street West, two blocks away from central park. Learn all about chocolate, which was first documented by the Guatemalan Maya, as well as it's historical importance. Otherwise, grab a coffee from one of the many myriad shops in central park and sit back, relax and enjoy Antigua's chilled-out vibes. If you want to learn more about Guatemalan coffee, you can go on a coffee tour, visit the plantations, do some coffee tasting and buy some to take home. 
Enjoy another free day exploring the city or surrounds. Perhaps rent a bike or learn how to salsa dance.
Rise and shine for a long day of travel, leaving at around 4 am to beat the rush-hour traffic around Guatemala City. All up you'll be spending eight hours driving to Copan by private vehicle, and while the scenery is breathtaking in sections, it's a good idea to pack a book or download a few podcasts in case you find you need to break up the journey. Head into Honduras through the wild countryside of eastern Guatemala, arriving in the charming town of Copan in the early afternoon. While most people use Copan as a base to explore the nearby ruins, there are plenty of other points of interest, both along the cobblestone streets and set into the lush surrounds. Maybe get started in the Central Plaza and follow your nose to cafe. Or perhaps head to the nearby hot springs on an optional tour. Less than USD 50 gets you hours of soak time in mud baths, steaming natural baths and refreshing pools plus dinner, all among winding jungle paths.
This morning is free for you to continue explore Copan and its surrounds. Perhaps make an optional visit to the World Heritage-listed ruins of Copan, the remnants of the southernmost of the great Maya sites for which Central America is famous. Unique because of the numerous elaborate stelae – carved columns – still intact on site, there are also temples, excavated vaults and walls inscribed with ancient faces. A stroll through this old-world capital is bound to leave you pondering the adbrupt collapse of such a creative civilisation. Alternatively, nature lovers may wish to travel two kilometres out of town to the Macaw Mountain Bird Park and Nature Reserve. Dedicated to the conservation of the Central American macaw, the reserve also houses toucans, motmots, parrots, kingfishers and orioles. At approximately 1 pm, wave goodbye to Copan and head across the border to El Salvador by private vehicle. There's another substantial amount of time spent on the road this afternoon, so have that book (or your most sparkling conversation) handy to pass the time. All up the drive should take about seven hours, depending on conditions, and you are expected to reach the colonial town of Suchitoto in the evening. 
Begin the day with a guided orientation walk of Suchitoto, widely considered the cultural capital of El Salvador. Stroll past gorgeous colonial facades and get your bearings. Birders will want to crane their necks – Suchitoto lies on a bird migration path. The rest of the day is all yours to get among the optional activities on offer. Suchitoto overlooks the Embalse Cerron Grande. Also known as Lago Suchitlan, this freshwater lake is a haven for the aforementioned migrating birds, particularly falcons and hawks. Maybe hustle a crew of four or more together and take a boat trip to Bird Island, or perhaps grab a historically-minded quartet for a guided walk through Cinquera Forest, where guerrilla fighters used the forest as cover during the civil war.
Enjoy a sleep in today and head south-east at about 10 am by private minibus to coastal El Cuco (approximately 5 hours). There are some great dark-sand beaches close to town, including the beautiful Playa El Esteron and Playa Las Flores, one of the best surf spots in the country. Maybe head to a beach for a few beers under shaggy palms and relax while you wait for the sunset. As night falls, perhaps enjoy a seafood dinner along the water – the local crab are some of the best in the country. 
Today you're free as a bird to explore the beautiful coast around El Cuco at your own pace. If you and a few others feel like getting active, you could take a trip to see nearby Conchagua Volcano. The views from the lookout are stunning, but you'll need a minimum of five people to take part. Alternatively, you might prefer to take a boat out on the ocean, find some inner peace during a free yoga class at the resort or simply relax in a hammock on the beach.
Rise early for a full day of travel across the Gulf of Fonseca to Nicaragua. Leave El Cuco at 5 am and drive to La Union (approximately 1 hour) before a 3–4 hour boat trip through the Gulf of Fonseca to the Nicaraguan town of Potosi. The boat crossing through the Gulf of Fonseca can get choppy and the boat may take some water. If your pack is not waterproof, please be sure to wrap your valuables and electronics in a plastic bag. Once in Potosi, passports are checked before continuing by private vehicle to Leon (approximately 4 hours). Upon arrival your leader will take you on a walking tour of this charming city. Though it's the second-largest in the country, Leon is relatively free of tourists, making strolling the mural-lined streets a real pleasure. 
Make the most of Leon in the morning. The street food behind the Lady of Grace Cathedral is some of the best in town, so why not grab a 'Nica taco'. Made with maize, rolled and then deep fried, these beauties are usually served with shredded cabbage and smothered in cream in Leon. Board a local bus bound for Granada at 2 pm, making the three-hour journey to the oldest city in the 'New World'. Featuring Moorish and Andalusian architecture and oozing colonial charm, the city is set on the banks of Lake Nicaragua and is surrounded by active volcanoes. Set out on a walking tour with your leader on arrival. Visit busy markets, the leafy Parque Central and 'La Calzada', a lively pedestrian street with plenty of bars and restaurants to choose from.
Today is all yours, so explore the city at your own pace. You may want to take a more comprehensive tour of the city, bargain hard in the markets or wander the cobblestone streets snapping photos of the colourful buildings. Hundreds of evergreen islets dot the waters of vast Lake Nicaragua, and you can spend a few hours exploring them by boat. Or perhaps hire a kayak and find your own way around, stopping to wave at fisherman who live in wooden huts on the islets, or the monkeys who live in the trees the huts are built from. Just remember not to take a dip, as freshwater sharks live in the water! Alternatively, you could take a day trip out to Mombacho or Masaya Volcano National Park to get close to some hissing giants.
Spend a morning at leisure in Granada. Perhaps start the day with a classic Nicaraguan breakfast of eggs, rice and beans, soft cheese, plantains and strong coffee. Then maybe hit the Convento y Museo San Francisco and view the collection of indigenous stone statues. At 2 pm take a local bus to Rivas (approximately 1.5 hours) and transfer to the port of San Jorge to catch a one-hour ferry across the seemingly endless waters of Lake Nicaragua to Ometepe Island. Hourglass-shaped Ometepe is formed by two volcanoes rising out of Lake Nicaragua, one active and one extinct. The island is home to fruit plantations, deep jungle and exotic wildlife such as howler monkeys, caiman and parrots. Spend the evening on the island, and maybe head out for a beer at one of the waterfront bars.
Spend today however you wish on this gorgeous island. Both Concepcion or Maderas Volcanoe are hikable, but be warned that at 1700 and 1340 metres above sea level respectively the treks are no walk in the park. If you are going to tackle them, ask your leader for a recommendation for a local guide. You should also be aware that even for the very fit, both volcanoes will likely take all day (8–10 hours) to summit and then descend. You might prefer to splash around in the clear waters of the natural springs, soak up the sun on the beach or check out the ancient petroglyphs (rock carvings) scattered about the island. While the restaurants on the island are of decidedly mixed quality, your leader can give you the lowdown on which places to avoid and which to make a beeline for. Stick to local fare and you'll have more luck – perhaps try indio viejo, a stew of corn, beef, onion, tomatoes and capsicum.
Today is another early start in order to grab a 7 am ferry to the mainland (1.5 hours) and a one-and-a-half-hour transfer to Penas Blancas before crossing the border into Costa Rica. A USD 3 fee is required when exiting Nicaragua. Reaching the Costa Rican border also requires a one-km walk, during which you must carry your luggage. Proof of onward travel is normally required to enter Costa Rica, so if you're flying out of San Jose, bring a printed copy of your flight details in case the border officials ask to see them. Once in Costa Rica, travel by private minibus for five hours to Monteverde. Phew. Long day, but you made it! Welcome to beautiful Monteverde, which you can begin exploring straight away on a walking tour with your leader. Monteverde was founded as an agricultural community in 1951 by a group of North American Quakers. These environmentally-aware settlers also established a small wildlife sanctuary, which has since grown into the internationally-renowned Monteverde Cloudforest Biological Preserve. Cloud forests are similar to rainforests, but instead draw their water from a semi-permanent cloud covering the region. This is truly a nature lover's paradise. More than 2000 plant species, 320 bird species and 100 mammal species call Montverde home. Be sure to keep an eye out for the resplendent quetzal, one of the most elusive birds in the world, on your walk. 
Today you have a free day to discover the lush reserve at your own pace. Perhaps take a hike through the cloud forest, check out the area by mountain bike or fly over the thick canopy on a zip line tour. Another way to see the forest from above is to take a Sky Walk tour along a series of suspension bridges. You can explore the park on your own or arrange for a local guide to accompany you. Guided tours are particularly helpful for those interested in learning more about the local flora and fauna. You can get guaranteed sightings of exotic insects and snakes at the Butterfly Garden or the Serpentarium.
Spend a final morning in the thickets of the jungle, perhaps taking one last walk to search for wildlife. Depart by shared minibus at 2 pm and head to La Fortuna. It takes about one-and-a-half-hours to reach the shores of Lake Arenal, followed by a further one-and-a-half-hour journey across the lake to the little town of La Fortuna. On a clear day you'll have fantastic views of the surrounding area, and watching the massive Arenal Volcano loom larger and larger as you approach is a spectacular sight. Once you reach La Fortuna hop on another minibus to the hotel, then freshen up and head out on a walking tour. La Fortuna is a favourite among travel writers for a reason – words like picturesque and breathtaking spring to mind when trying to describe the town in the shadow of the volcano.
Good morning! Why not start today with a smoothie and plan how you want to explore. Perhaps take a guided nature hike through the lush forest surrounding Arenal Volcano, keeping an eye out for rare plants and animals. You can also see the forest from a series of hanging bridges, which is a great vantage point for spotting wildlife like sloths and rainbow-coloured birds. Or perhaps check out the 70-metre-high La Fortuna waterfall set in the middle of evergreen rainforest. Active types might want to hit the lake on a stand-up paddleboard. The volcano's inner workings also mean that the area is home to several thermal hot springs, an ideal way to relax in the middle of nature. Alternatively, a boat safari down the Celeste River offers the opportunity to see lizards, crocodiles and tropical birds in their natural habitat.
Watch the volcano fade into the distance as you begin the five-hour local bus ride to Costa Rica's capital, San Jose. Head out on a walking tour with your leader on arrival to see the main highlights. Later, perhaps visit the Gold Museum, which has an amazing collection of pre-Spanish gold art. If you're in the mood for a bit of shopping, head to the outdoor market in the Plaza de la Cultura or the city's Central Market, where you can buy anything from handicrafts to seafood. Prefer to have someone else do the organising for you? Check out the Urban Adventures offered in San Jose, from craft beer tours to day-trips to the countryside. Fin out more at urbanadventures.com/destination/San-Jose-tours
Today your adventure through Central America comes to an end. There are no activities planned for the final day, but please be aware you must comply with the hotel's check-out time. There's a lot to see and do in and around San Jose, so if you'd like to extend your visit and need further accommodation, our reservations team are happy to assist (subject to availability).
What's Included
//=Yii::t('app', 'Download PDF')?>
While travelling with us you'll experience the vast array of wonderful food available in this region. Your group leader will be able to suggest restaurants to try during your trip. To give you the maximum flexibility in deciding where, what and with whom to eat, generally not all meals are included in the trip price. This also gives you more budgeting flexibility. As a rule our groups tend to eat dinner together to enable you to taste a larger variety of dishes and enjoy each other's company. There's no obligation to do this though. DIETARY REQUIREMENTS Please let us know your diet requirements before your trip starts. Generally speaking, in bigger cities/towns vegetarians can expect a reasonable range of vegetarian venues and/or vegetarian options within tourist restaurant menus. However, vegetarianism is not the norm in this part of the world so options can be limited when eating at homestays, small local restaurants, street stalls, markets, etc. More restrictive diet requirements (vegans, celiac, gluten intolerance, fructose intolerance, lactose intolerance, etc.) can also be accommodated along this trip but you should expect a lesser variety than what you can expect at home. We recommend that, if possible, to bring your own supply of snacks with you. SIMPLE BREAKFAST Some of the included breakfasts along this trip can be quite simple: toasts, spreads, juice and coffee or tea.
Accommodation
Hotel (26 nights),Camping with facilities (1 night),Multishare Lodge (2 night),Lodge (2 nights),Homestay (1 night)
The style of accommodation indicated in the day-to-day itinerary is a guideline. On rare occasions, alternative arrangements may need to be made due to the lack of availability of rooms in our usual accommodation. A similar standard of accommodation will be used in these instances. Throughout the trip we request that our lodgings prepare rooms in time for our arrival, especially if we're arriving prior to normal check-in time. However this isn't always possible which means we won't be able to check-in immediately on arrival at some hotels. Instead, we can store our luggage and explore our new destination.
Currency Conversion Help
To convert our prices, select a currency from the drop-down. We will show you the estimated price in your selected currency based on our most recent available exchange rate. Although you are able to view the currency of your choice, your card will be charged in GBP (with the exception of some Low Cost Carrier flights and some hotels). Final conversion rates to your local currency will be performed by your credit card issuer, and may differ from the estimates shown. Some banks may impose fees for cross-border transactions. Check with your credit card issuer to see if fees apply.