Ask a question
Download Brochure
California Calling 2021-22

Driving tour of Los Angeles
Driving tour of San Diego
Entry to Grand Canyon National Park
Party bus, Las Vegas
Driving tour of the Las Vegas Strip
Entry to Yosemite National Park
Driving tour of San Francisco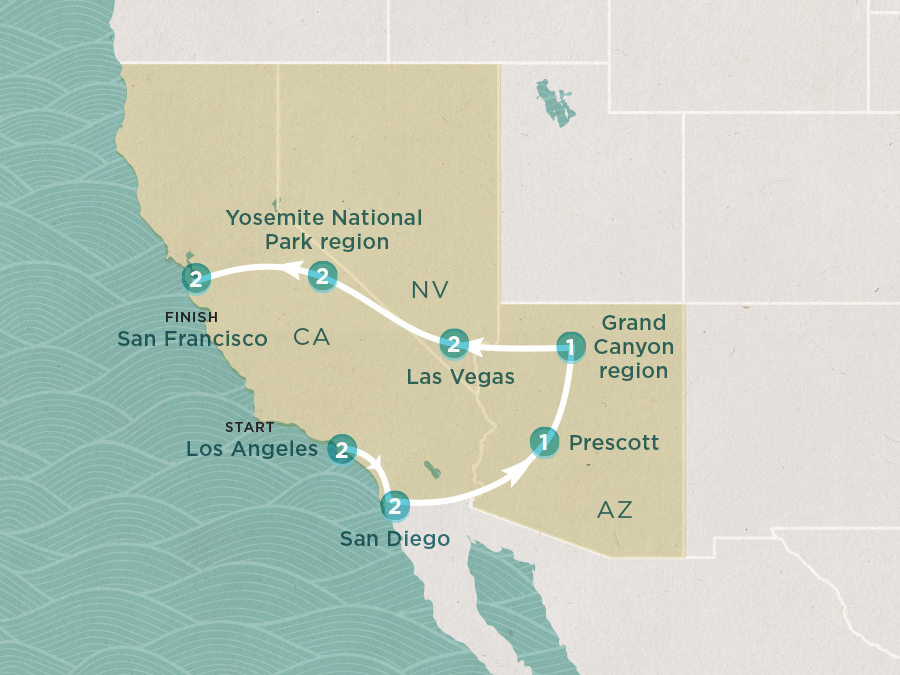 Is this trip for me: PICTURESQUE. MOMENTOUS. SHORT-BUT-SWEET.   'You could travel the world, but nothing comes close to the golden coast'. And yes, Katy Perry - we'd have to agree. Roll from the sun-soaked and painfully attractive Pacific Coast, through the red expanses of the Mojave Desert, to the jaw-droppingly beautiful vistas of Yosemite and golden hues of San Fran on this epic two-week Californian adventure. There's not really a better introduction to the West than this.  
Day 1: Los Angeles, California
La la land: a city characterised by its blissful lack of touch with reality. And the perfect place to sack off your everyday routine and catapult into a two-week California adventure. Meet us early and get your bearings around this ginormous city on a driving tour. We'll tick off the big guns: Santa Monica, Venice Beach, Beverly Hills and Hollywood. Then it's time get to know the gang a little better with an included group dinner. We may be a mixed bunch, but we're all in it together!
Sun-kissed. Creative. Ruggedly good looking. LA is your ideal Tinder date - minus the swiping and awkward small talk. And today, the City of Angels is 100% yours for the taking. Don't just scratch the surface, delve deeper. Explore the edgy art districts filled with hipster breweries and awesome street art. Visit the grungy music venues of famous rock stars, new and old. Dive head-first into the diverse foodie scene (like, seriously good Korean food - just sayin'). And revel in the good life with a dip at Venice Beach or sunset hike through the Hollywood Hills. Rather see if America's theme parks really live up to the hype? Sign up for an optional trip to Disneyland or Universal Studios - and put them to the test.
Day 3: Los Angeles to San Diego
Pile into the coach amigos, we're heading down the Pacific Coast to San Diego. After a drive around town, we'll park up at Mission Beach. Then: the afternoon is up to you! Ride the rollercoaster at Belmont Park. Stretch your legs along the beachfront boardwalk. Tuck into a California Burrito - they were born here. Or don your speedos and hit the beach. Later, we'll settle in for a Mexican feast in Old Town before seeing whether the Gaslamp Quarter meets expectations.
This is your day to delve deeper - need some suggestions? If aircraft carriers are your thing, there's an optional trip to the USS Midway to get on board with. Or take Fleetwood's advice and go your own way - slip on the Nikes and hit the lesser-known hiking trails around Balboa Park or head to Little Italy to silence your inner fat-kid. Later, find out why they call this place 'America's Craft Beer Captial' with a micro-brewery crawl with you trip mates. Or take a picnic down to the beach and watch the sun go down. This is what you came for.
Day 5: San Diego to Prescott, Arizona
Have one last swim in the Pacific Ocean before we roll onto Prescott today. Arizona - this state is made for road trips. Stretches of endless sky. Expanses of red desert. Centuries-old history. And some pretty famous rock formations. Spot the mutant cacti as we cross the Mojave Desert. After dinner, soak up some lingering history and live music along Whiskey Row.
Day 6: Prescott to Grand Canyon region
Disclaimer: this is a bit of a drive day. So, stock up on snacks and share around the AUX cord - we're going to blast some banging tunes all the way to Flagstaff (the gateway to the Grand Canyon). Get syced about tomorrow - you've seen the pictures, but nothing can prepare you for the humility you'll feel standing on the edge of something so mighty.
Day 7: Grand Canyon region to Las Vegas, Nevada
This is it folks, the moment you've been waiting for. The grandest of canyons awaits! One word to describe this place: mesmerising. And the only way to see one of the world's most incredible natural wonders in its entirety, is from the sky. DW we've organised an optional heli-tour for you. After you've filled your SD card, we'll make tracks to Sin City. Seriously, this place is so neon it hurts to look at. But we'll do just that on a driving tour - before donning our sequin bowties and stilettos for a night on the town (featuring our very own party bus). Syced?
From big-budget stage shows, Michelin star restaurants and Eiffel Tower rip-offs - Vegas is the definition of OTT. But you can't help love it anyway. Anything goes here and you've got a full day to make the most of it. Our suggestions? Take an optional heli-tour over The Strip. Or catch a ride on the High Roller Observation Wheel. You can even check out a shooting range, if that's your thing. There's plenty of time to flash some plastic at the mall or hit up a Vegas-style pool party. Just save some energy for round two with the gang later tonight.
Day 9: Las Vegas to Yosemite National Park region, California
Shake the confetti from your hair - we're outta here. Next stop? The Sierra Nevada Mountains. This place is Disneyland for outdoor enthusiasts. Where sheer-faced granite walls reign supreme, giant sequoia trees loom over dense forest floors and the sound of thundering waterfalls fill the air. Over dinner, make a plan of attack for your free day tomorrow - your expert Trip Leader has plenty of suggestions.
Day 10: Yosemite National Park
There aren't enough adjectives to describe this place - so we're not going to try. You've got a full day to experience the magic of Yosemite (yo-sem-it-ee) for yourself. Don't waste a second. Start with the Mist Trail for incredible views that compensate for the burning calves. Follow the trail to the top of Vernal Falls and be rewarded with a refreshing dip in Emerald Pool. Want more of a challenge? Follow 'nature's staircase' to the top of Navada Falls. DW if walking isn't your thing - there's a free shuttle to get around. Keep your eyes peeled for deer, bears and golden eagles. David Attenborough wannabes eat your heart out. Worked up an appetite? Dinner tonight is on us.
Day 11: Yosemite National Park region to San Francisco
The trip might be winding down - but the adventure sure as hell isn't over yet! We've got our eye on San Fran next. Home of Alcatraz Prison and one famous red bridge that's pretending to be golden (we see you). Learn the who's who of 'The City' on a driving tour including Pier 39, the Fisherman's Wharf and The Painted Ladies. Then: we'll get the gang together for one last dinner together. Want to kick on? With so many options, you can't really go wrong - but the Duboce Triangle is a good place to start.
This is our last full day. So, don't hang about! Fuel up with a stack of pancakes that'll put your elastic waistbands to the test. Then, hire a set of wheels and ride across the Golden Gate Bridge into Sausalito. History buffs will want to tour Alcatraz (get your tix in advance!). Or wander the waterfront and get a pic with the locals at Pier 39. Union Square is the place to flash some plastic before you head home. Then: take a box of Pepple's Donuts to Marshall's Beach to watch the sunset. After dinner, gather your trip mates and give this epic adventure the send-off it deserves!
You tried the food. Met the locals. Stood on the edge. Said yes to the new and exotic. And all in under two weeks! Time to say our goodbyes. Swap those Insta handles - start planning that reunion trip.
Accommodation //= ArrayHelper::getValue($detail, 'description') ?>
- 4 nights in hotel upgrades, 8 nights in hostels
Meals //= ArrayHelper::getValue($detail, 'description') ?>
9 breakfasts 1 lunches 6 dinners
Transport //= ArrayHelper::getValue($detail, 'description') ?>
Modern air-conditioned coach with free Wi-Fi
Optionals //= ArrayHelper::getValue($detail, 'description') ?>
-Visit Disneyland in Los Angeles: from $100 USD
-Visit Universal Studios in Los Angeles: from $100 USD
-Visit the USS Midway: from $16 USD
-Heli-tour over the Grand Canyon: from $290 USD
-Heli-tour over the Las Vegas Strip: from $130 USD
-Ride the High Roller Observation Wheel in Las Vegas: $40 USD
-Visit a Las Vegas shooting range: from $100 USD
Group Size //= ArrayHelper::getValue($detail, 'description') ?>
California Calling 2021-22
START
Duration
end
seats left
savings
price
Currency Conversion Help
To convert our prices, select a currency from the drop-down. We will show you the estimated price in your selected currency based on our most recent available exchange rate. Although you are able to view the currency of your choice, your card will be charged in GBP (with the exception of some Low Cost Carrier flights and some hotels). Final conversion rates to your local currency will be performed by your credit card issuer, and may differ from the estimates shown. Some banks may impose fees for cross-border transactions. Check with your credit card issuer to see if fees apply.