Ask a question
Download Brochure
Bali & Lombok: Hike, Bike & Raft
Bali & Lombok: Hike, Bike & Raft
Bali & Lombok: Hike, Bike & Raft
Bali & Lombok: Hike, Bike & Raft
Bali & Lombok: Hike, Bike & Raft
Bali & Lombok: Hike, Bike & Raft
Bali & Lombok: Hike, Bike & Raft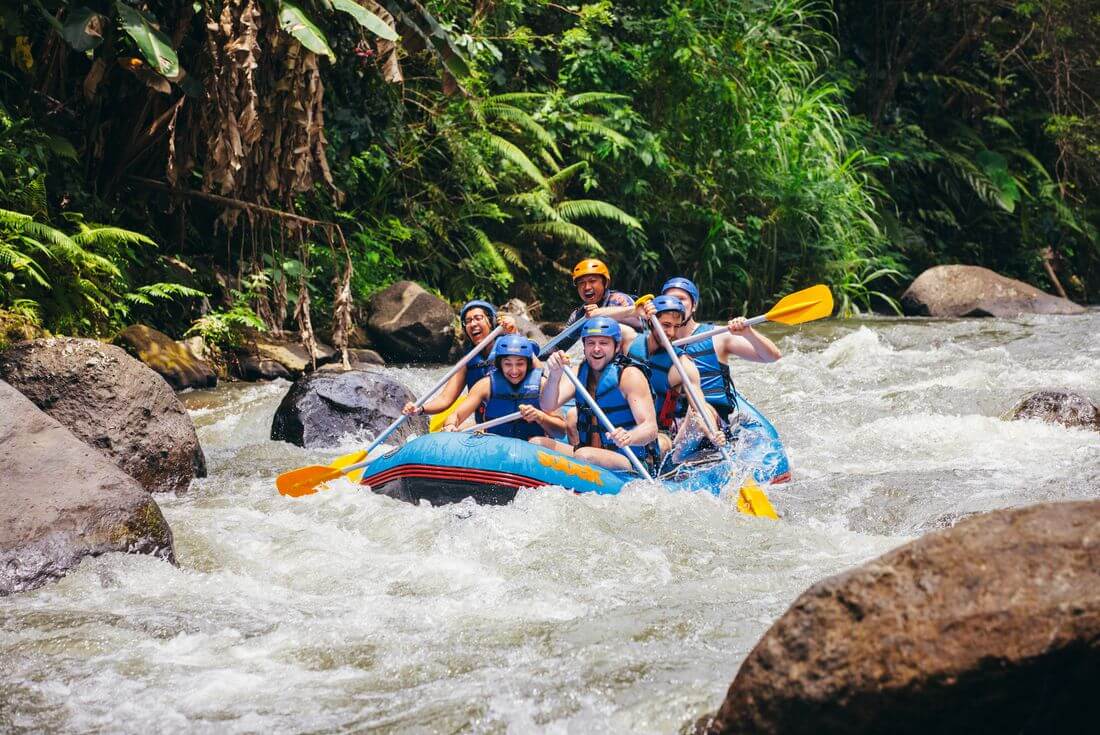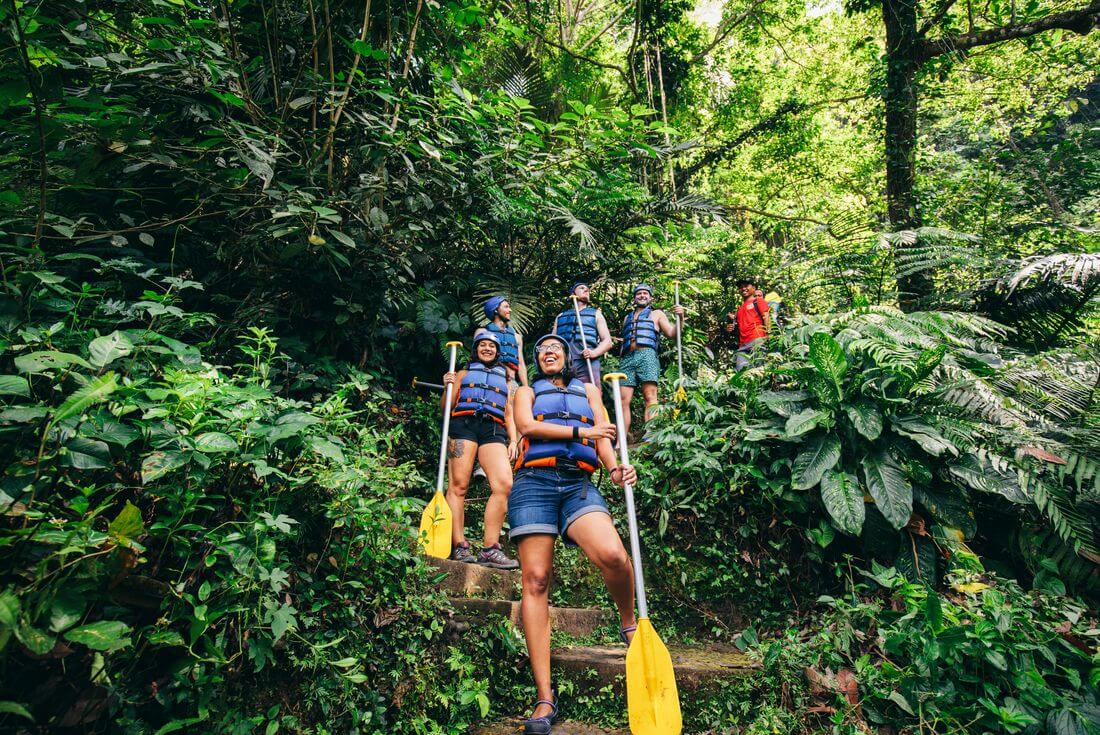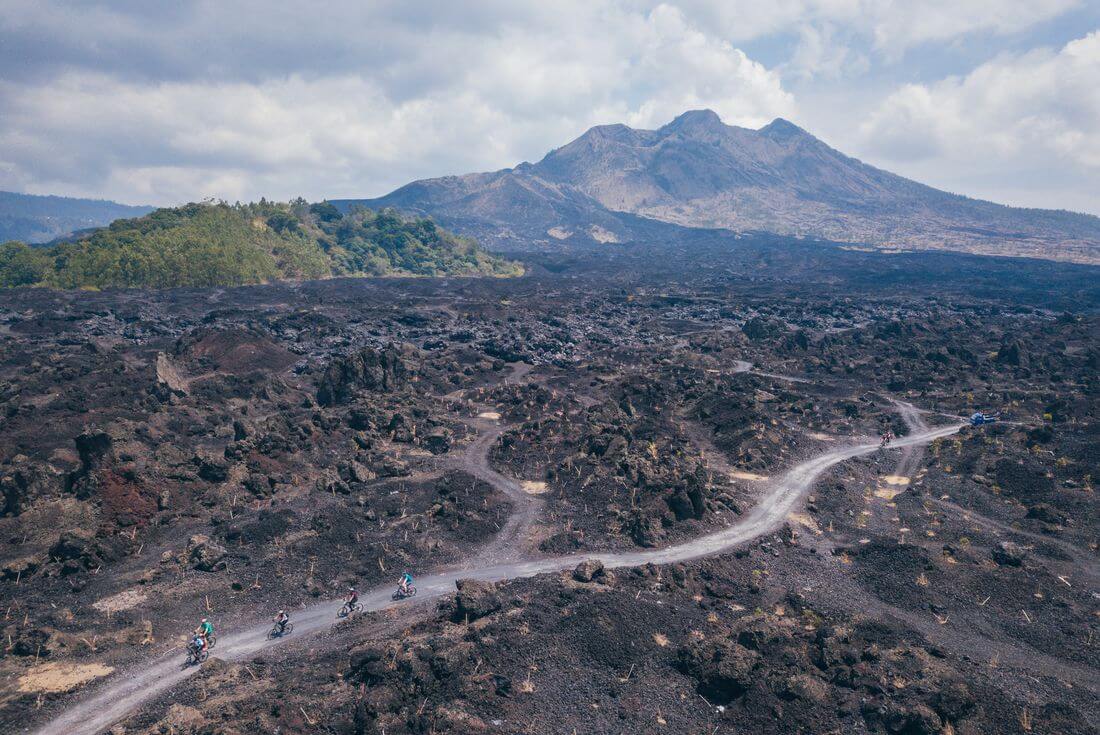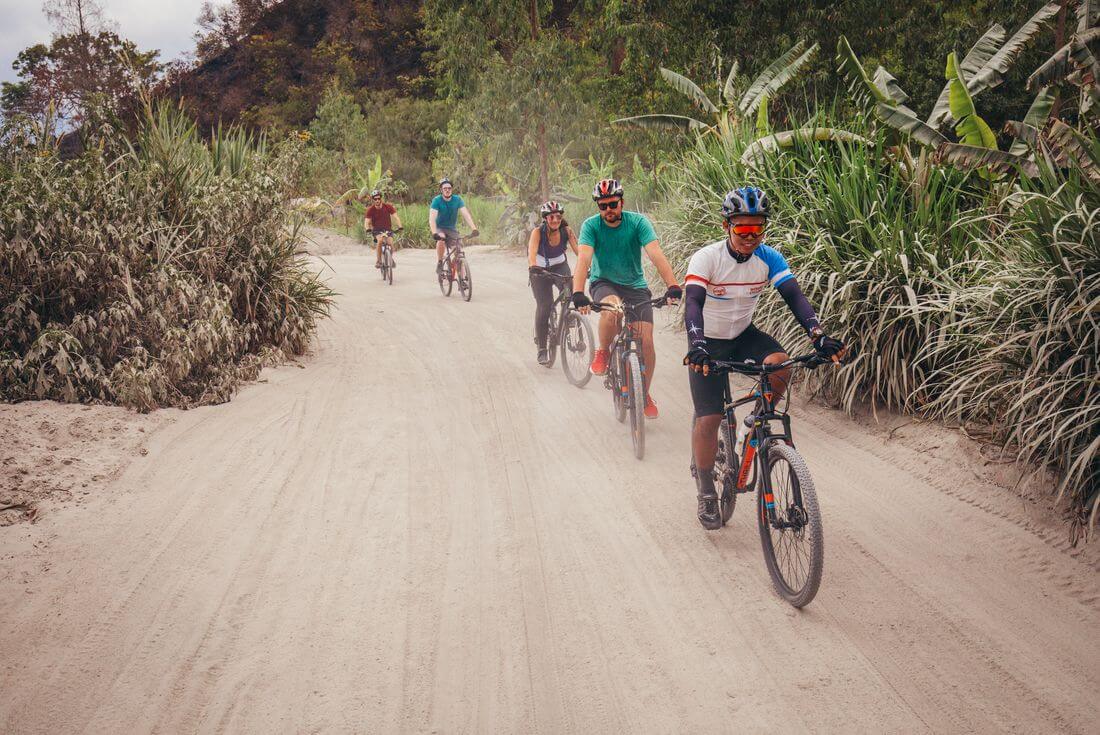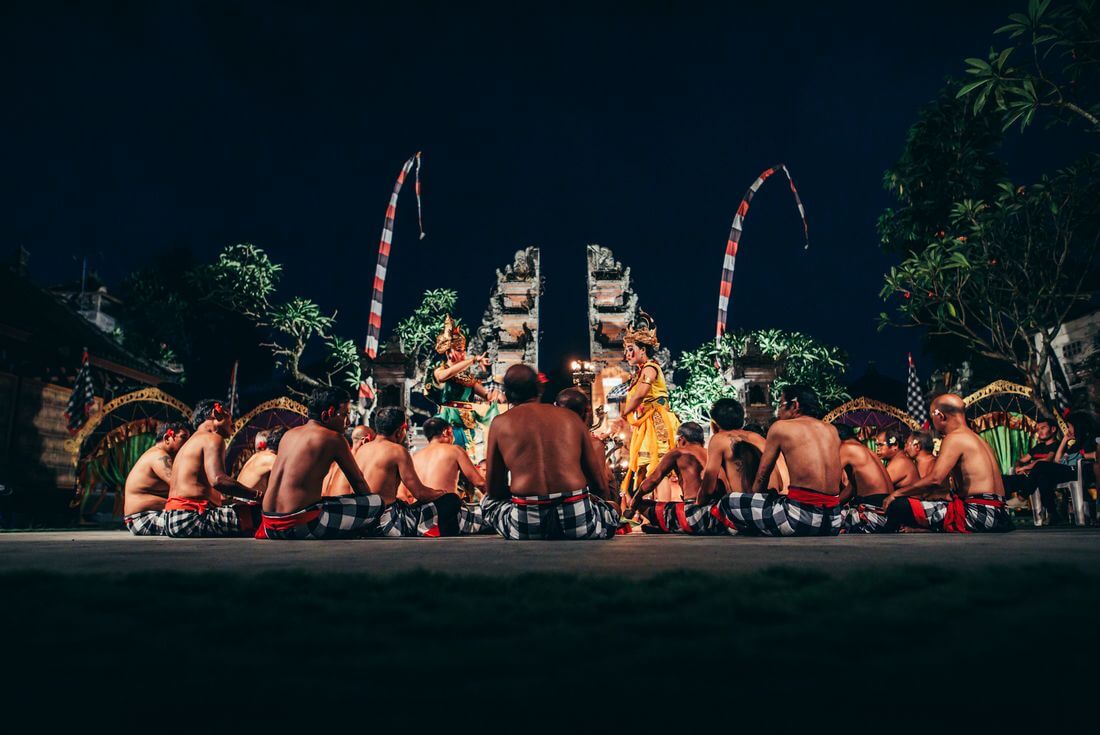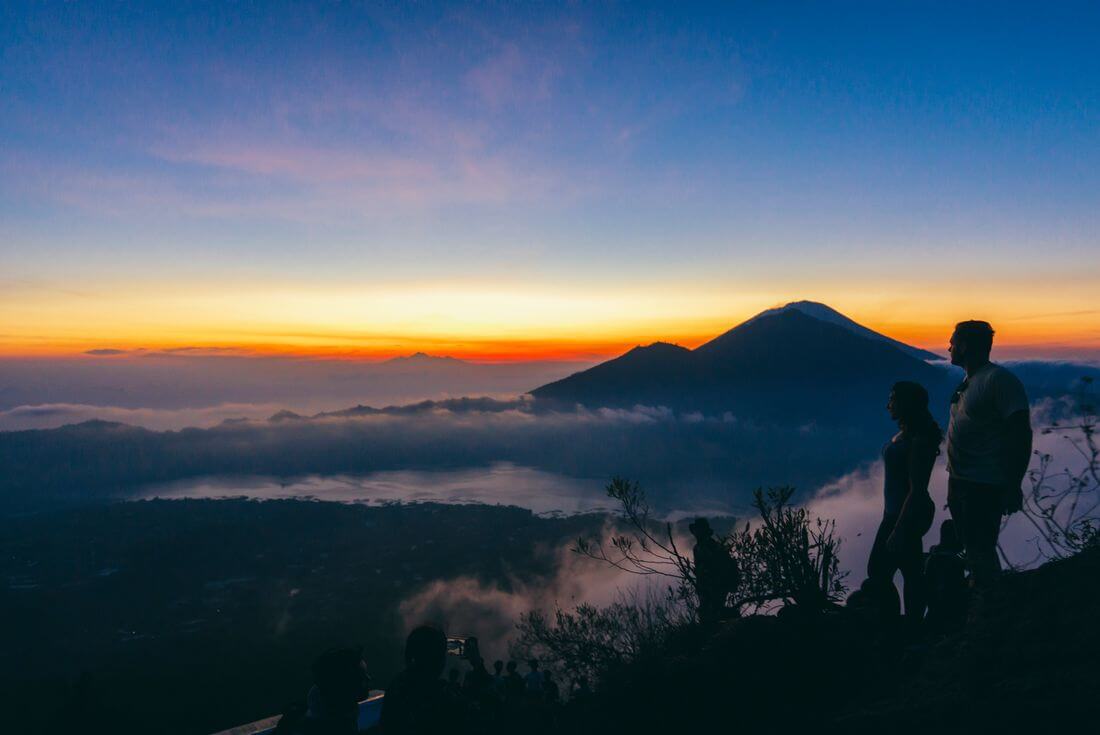 Enjoy a mixture of adventurous activities, from snorkelling to hiking to rafting – perfect for those who love to get their pulse going
Get well away from the tourist trail in Eastern Bali, visiting lesser-known temples and villages of Tenganan Village and Pura Luhur Lempuyang. These are golden opportunities to learn about Balinese culture
Hike through lush forests and climb to the rim of Mt Rinjani, where spectacular views of the crater reward your efforts on this challenging day-trek
Relax and unwind on pristine beaches in Amed and Gili Air, the perfect places to rest your bones after hiking
Swim with colourful marine life and sea turtles on a snorkelling trip around the islands at Gili Air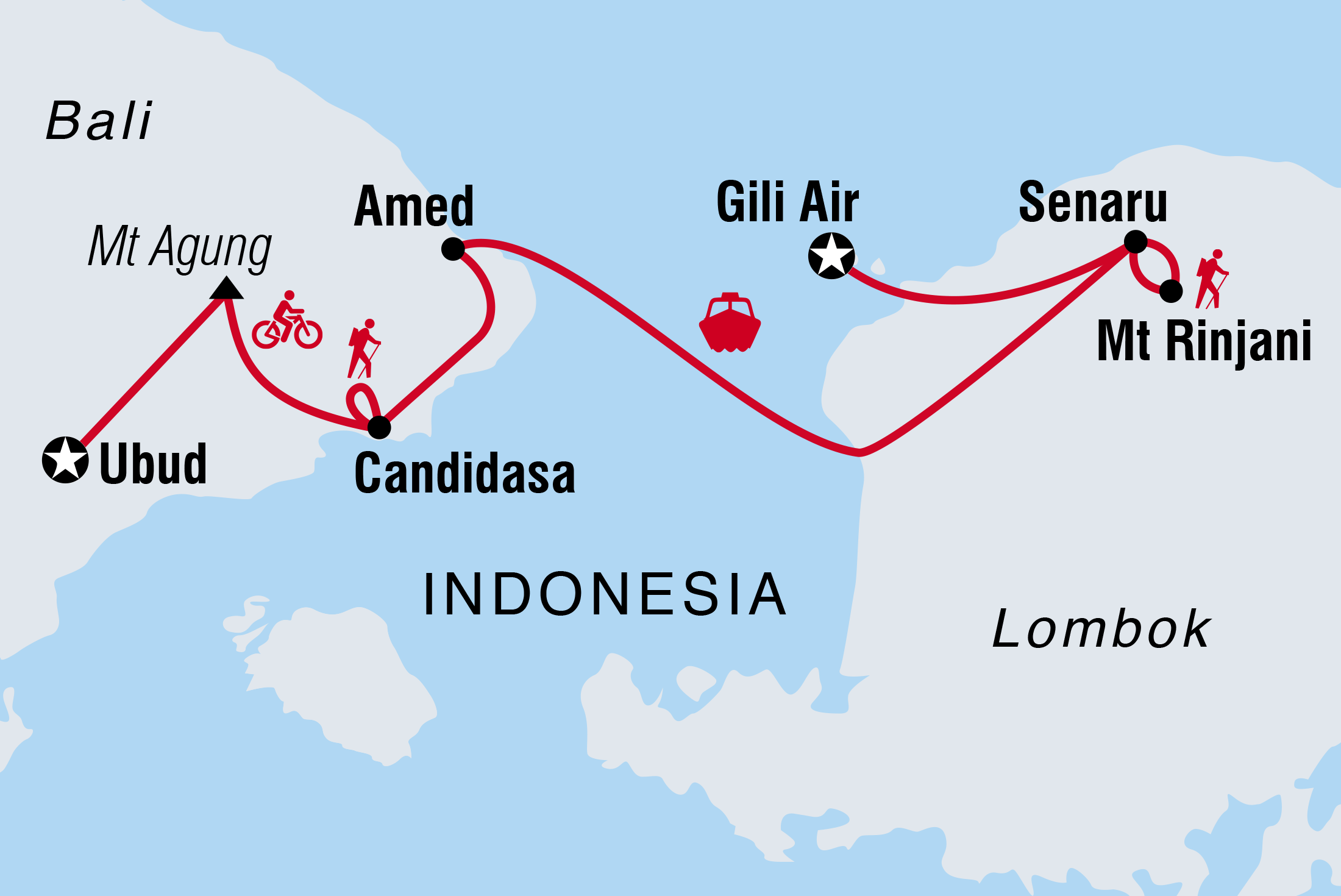 Brimming with incredible landscapes and extraordinary diversity, Bali and Lombok are perfect havens for curious, active travellers. Go white water rafting outside Ubud, stroll through rice paddies and quaint villages en route to Candidasa, wind your way along the slopes of Mount Agung to the beach, climb the mythical route to Lempuyang Temple, trek through monkey-filled forest to Mt Rinjani, and snorkel in search of sea turtles in the remote Gili Islands. Learn about Balinese cultures and traditions along the way, from Hindu temples to old-fashioned blacksmithing. With a healthy dose of beachside chill-time thrown in, this Bali and Lombok adventure strikes the perfect balance.
Om Swastiastu! Welcome to Ubud, the arts and cultural centre of Bali. Your adventure begins with a welcome meeting at 6pm. Please look for a note in the hotel lobby or ask reception where it will take place. If you can't arrange a flight that will arrive in time for the welcome meeting, you may wish to arrive a day early so you're able to attend. We'll be happy to book additional accommodation for you (subject to availability). If you're going to be late, please inform the hotel reception. We'll be collecting your insurance details and next of kin information at this meeting, so please ensure you have all these details to provide to your leader. Afterwards, perhaps head out to Gianyar night market. It's an informal setup, but a great way to get a taste of the local culture and cuisine.
Day 2: Ubud (White Water Rafting)
Embark on a white water rafting adventure just outside Ubud today. Zoom down an 11km long river stretch, navigating through class II and III rapids set to a backdrop of pristine rainforest, shadowy gorges and picturesque rice paddies (approximately 2 hours). Finish up with a hot shower – clean towels and changing rooms are available. For lunch, enjoy a buffet feast before heading back to Ubud for the afternoon.
Day 3: Candidasa (Cycling)
Leave the hustle and bustle of the city today, driving from Ubud to the foothills of Mount Agung (approximately 2 hours). Here you'll start your day of cycling. The route you'll ride will start close to the slopes of Mount Agung, beginning with a winding trail through lush bamboo forests and fruit orchards, then passing through local villages and rice paddies. The whole route is approximately 27 kilometres and will immerse you in the Balinese countryside. You'll cycle along quiet country roads and mostly head downhill, but there'll also be a few short hills to get your pulse racing. Your ride will finish up at White Beach, a popular spot for swimming and sunbathing. There are plenty of local warungs (cafes) here, the perfect place to get some lunch. After some time to relax here, transfer to your guesthouse, where you'll spend the next 2 nights. The accommodation is fan cooled and there are cold water showers.
Day 4: Candidasa (Trekking)
Today you will drive 30 mins to the stunningly green and lush Amlapura region to do some trekking, passing through Budakeling, a Buddhist Brahmana village, cacao plantations and then walk on to the village of Bedandem and visit a local silversmith. Your next stop is Gumung, where a rice terrace gives you a breath taking view of Mt Agung. Here you might be lucky enough to join the locals in the field for the rice harvest. The whole walk takes around 4-5 hours and you will end at Tirta Ganga water palace, here you can take a well-earned lunch before enjoying a visit to the palace and taking an optional plunge into the cool water pools.
Day 5: Pura Luhur (Trekking) - Amed
Take a minivan to Pura Luhur (approximately 30 minutes). Climb more than 1,700 steps to Lempuyang Temple (approximately 5-6 hours). The walk is paved the entire way and it is easy to find your way to the top. According to the locals, you shouldn't complain on your way to the top, otherwise you'll never make it! There are many spiritual and mythical aspects to this rewarding journey. There are actually seven different temples to see at this site. Enjoy views of Mount Agung, Bali's highest peak. But also keep an eye out for long-tailed macaques circling in the sky. After your climb, return to the base and drive to your accommodation, located on a black sand beach where you can finish off the day with a refreshing swim.
Enjoy a free day in Amed. Soak up the peace and quiet of this remote coastal getaway – it's an excellent place for a relaxing stroll along the shore or perhaps some yoga. While the shoreline itself is often rocky, the waters are crystal clear, making it an excellent place for snorkelling and diving. Those looking to discover the US Liberty wreck here can put on some snorkelling gear and go exploring. If you're interested in this option, chat to your leader.
Travel by fast boat to Senggigi, Lombok. This afternoon take a guided tour of the local Sasak village to learn about the history and culture of these people who live on the slopes of Mt Rinjani. Learn about how their traditions and beliefs surrounding this active volcano. Our guide is also part of a female guiding association that trains and develops women in tourism. Later today you will meet your local guide, discuss safety and waste management, be briefed on the route, and have time to pack your overnight bag for tomorrow morning. On returning, perhaps kick back with a cool drink.
Day 8: Mt Rinjani (Trekking)
Begin your full-day trek to Mt Rinjani today a climb of 2000M over a distance of 9KM, departing at around 7am. Your route follows a variety of terrain – solid dirt path, solid rock, gravel and grass. There will be plenty of stops along the way to rest your legs and take some photos. Look out for long-tail monkeys and exotic butterflies as you hike along these lovely trails. First you'll walk in shady forest; after that, the rest is open grassland. The last section is the toughest, up steep gravel and dirt paths it can often get very dusty on this section so a good idea to have a bandana to cover your mouth. This takes you to the campsite just below the crater rim (2,600 m). Here a clear evening will give way to awesome views across Bali, the Gili Islands and Mt Agung. There are no shower facilities tonight so wet wipes are a good idea and the toilet is a simple tent over a pit.
Day 9: Mt Rinjani - Senaru (Trekking)
Get up early to catch the blazing sunrise. After a 7am breakfast, it's time to descend back to Senaru. A second perspective on yesterday's environs is sure to yield some new discoveries – perhaps honeyeaters or cockatoos perched amid the dense forest.
Transfer from Senaru to Telak Naru (approximately 1.5 hours). Here you will take a boat to Gili Air (approximately 20 minutes). Beautiful white beaches await in this paradise of bamboo huts and blue-grean ocean. Take the opportunity for a well-earned rest, or a perhaps a refreshing swim.
Get amongst the marine life on a snorkelling trip around the crystal waters of Gili Air. After being fitted for snorkelling equipment, head out on a motorised wooden boat around the Gili Islands. Swim out straight off the boat and catch colourful scenes of fish and sea turtles in the water. You will make a few stops at different spots around the islands.
Your trip comes to an end today with no further activities planned. If you are departing from Bali or Lombok airports, please allow enough time to book a fast boat and land transfer for your return.
Food //= ArrayHelper::getValue($detail, 'description') ?>
While travelling with us you'll experience the vast array of wonderful food available in the world. Your group leader will be able to suggest restaurants to try during your trip. To give you the maximum flexibility in deciding where, what and with whom to eat, generally not all meals are included in the trip price. This also gives you more budgeting flexibility. As a rule our groups tend to eat together to enable you to taste a larger variety of dishes and enjoy each other's company. There's no obligation to do this though. INDONESIAN FOOD: Here are 10 quintessential dishes you have to try while travelling in Indonesia: https://www.intrepidtravel.com/adventures/what-to-eat-in-indonesia/ VEGETARIANS & VEGANS: Strict vegetarians should be aware that a lot of Indonesian cooking contains fermented shrimp paste (terasi) as a basic ingredient. Chicken and eggs are also common in many dishes. Although there are many vegetarian options available, please ensure you are specific as possible when ordering food to ensure that your meal suits your dietary needs. If you are travelling to Ubud, see our guide to vegan and vegetarian eats: https://www.intrepidtravel.com/adventures/vegan-vegetarian-guide-to-ubud/
Accommodation //= ArrayHelper::getValue($detail, 'description') ?>
LOMBOK: Accommodation and infrastructure in Lombok is generally more basic than in nearby Bali. OCCASIONAL ALTERNATIVE ACCOMMODATION The style of accommodation indicated in the day-to-day itinerary is a guideline. On rare occasions, alternative arrangements may need to be made due to the lack of availability of rooms in our usual accommodation. A similar standard of accommodation will be used in these instances. TWIN SHARE / MULTI SHARE BASIS Accommodation on this trip is on a twin/multishare basis. Please note there may be times where facilities will be shared rather than ensuite and rare occasions when you share a room with passengers travelling on a different Intrepid trip than your own. CHECK-IN TIME Throughout the trip we request that our hotels prepare rooms in time for our arrival, especially if we're arriving prior to normal check-in time. However this isn't always possible which means we won't be able to check-in immediately on arrival at some hotels. Instead, we can store our luggage and explore our new destination. PRE/POST TRIP ACCOMMODATION If you've purchased pre-trip or post-trip accommodation (subject to availability), you may be required to change rooms from your trip accommodation for these extra nights.
Bali & Lombok: Hike, Bike & Raft
START
Duration
end
seats left
savings
price
Sunday
Oct 10, 2021
from Ubud
Sunday
Oct 21, 2021
from Gili Islands
Currency Conversion Help
To convert our prices, select a currency from the drop-down. We will show you the estimated price in your selected currency based on our most recent available exchange rate. Although you are able to view the currency of your choice, your card will be charged in GBP (with the exception of some Low Cost Carrier flights and some hotels). Final conversion rates to your local currency will be performed by your credit card issuer, and may differ from the estimates shown. Some banks may impose fees for cross-border transactions. Check with your credit card issuer to see if fees apply.