Ask a question
Download Brochure
Arnhem Land and Uluru Camping Adventure
Arnhem Land and Uluru Camping Adventure
Arnhem Land and Uluru Camping Adventure
Arnhem Land and Uluru Camping Adventure
Arnhem Land and Uluru Camping Adventure
Arnhem Land and Uluru Camping Adventure
Arnhem Land and Uluru Camping Adventure
Arnhem Land and Uluru Camping Adventure
Arnhem Land and Uluru Camping Adventure
Arnhem Land and Uluru Camping Adventure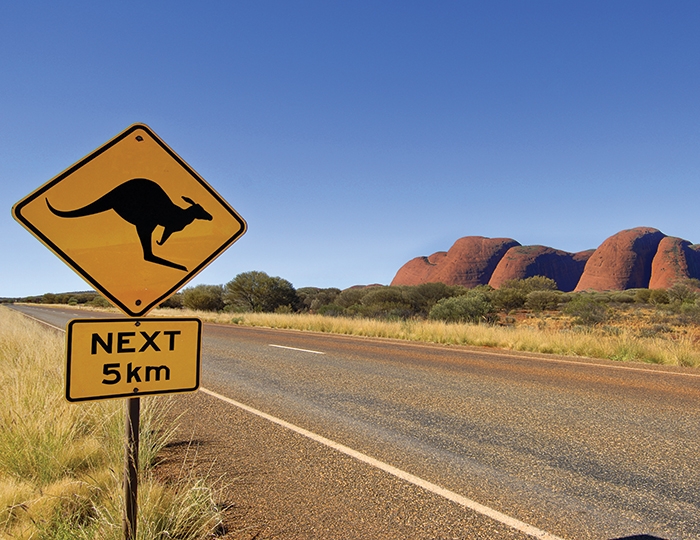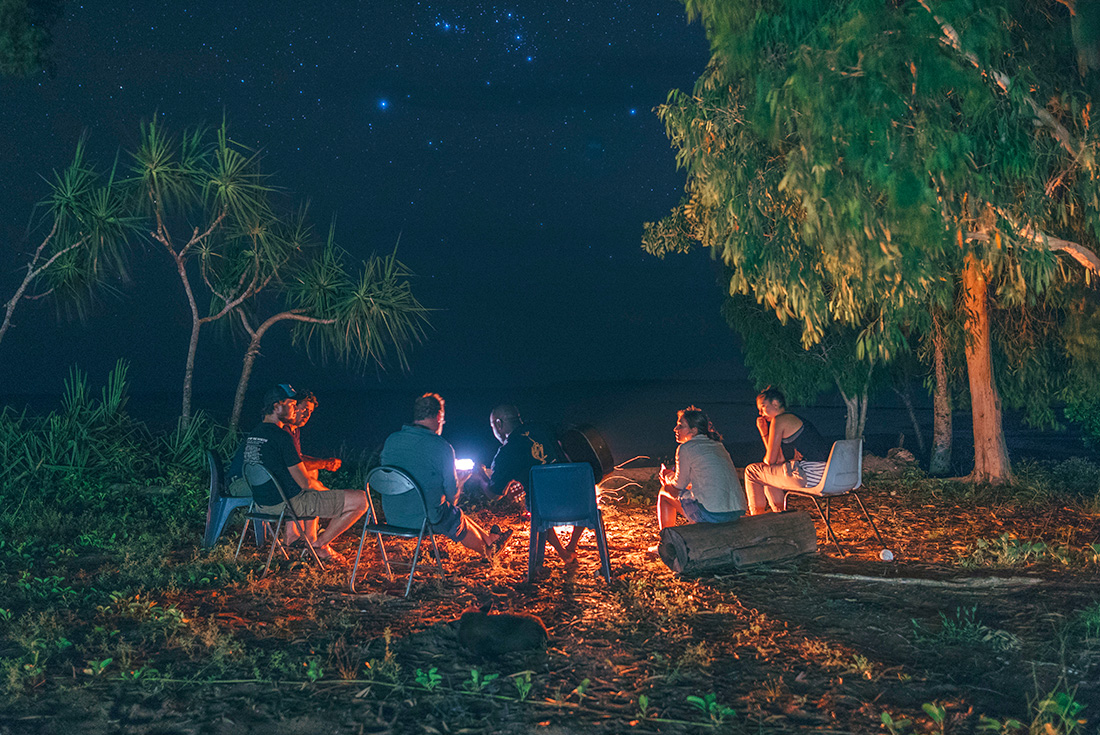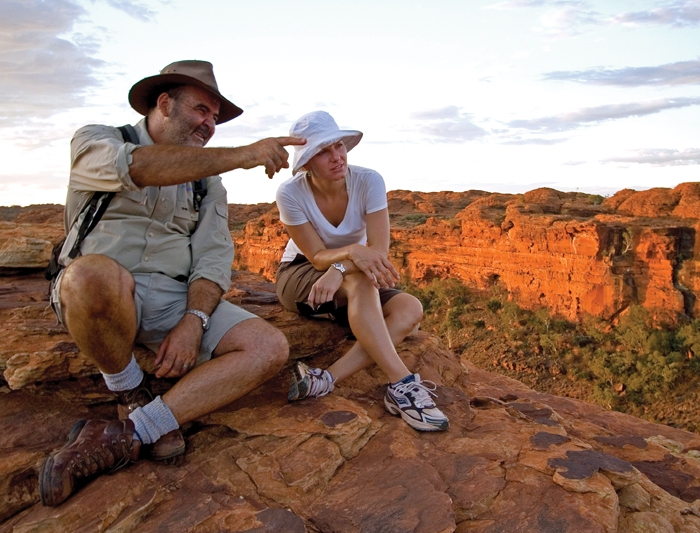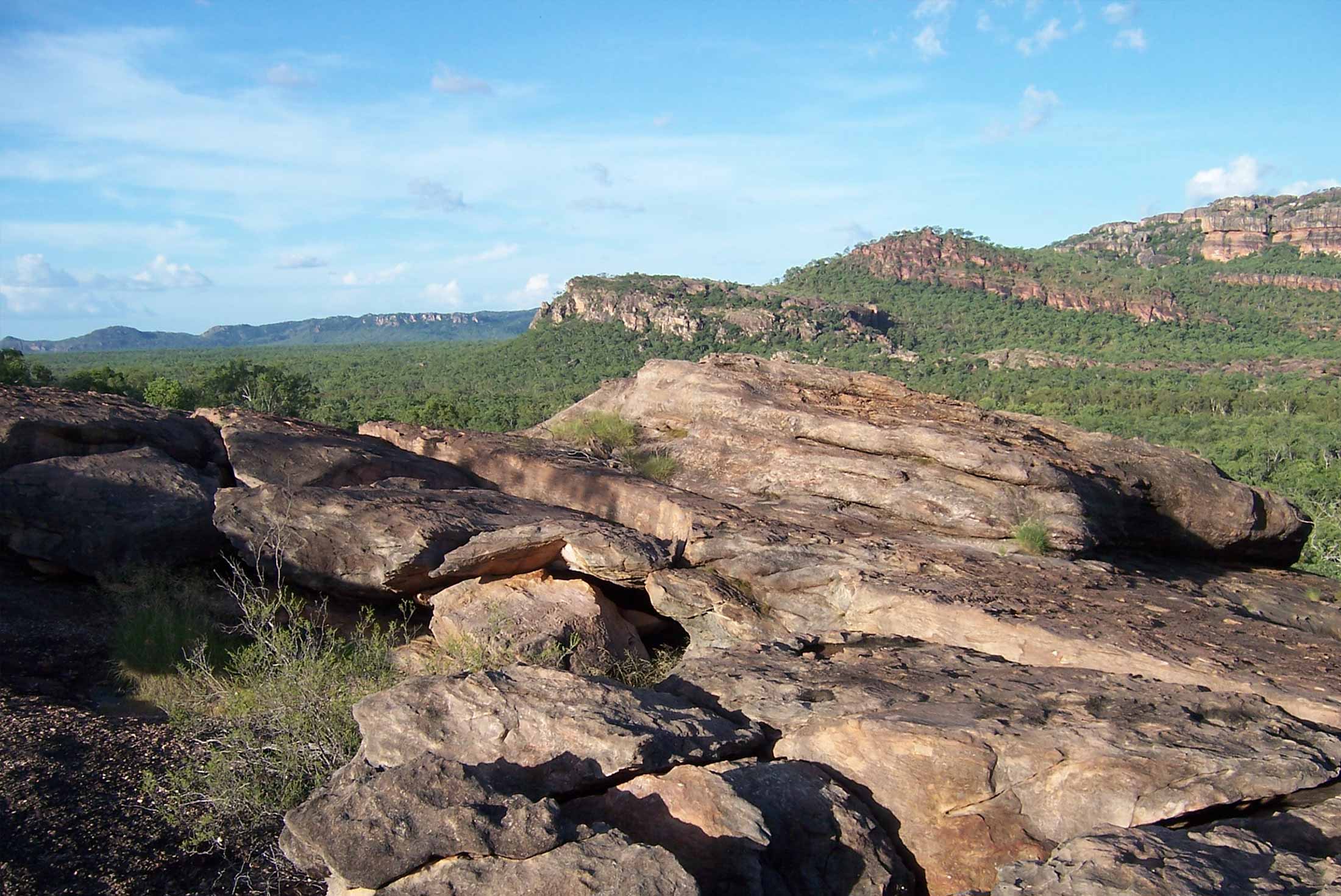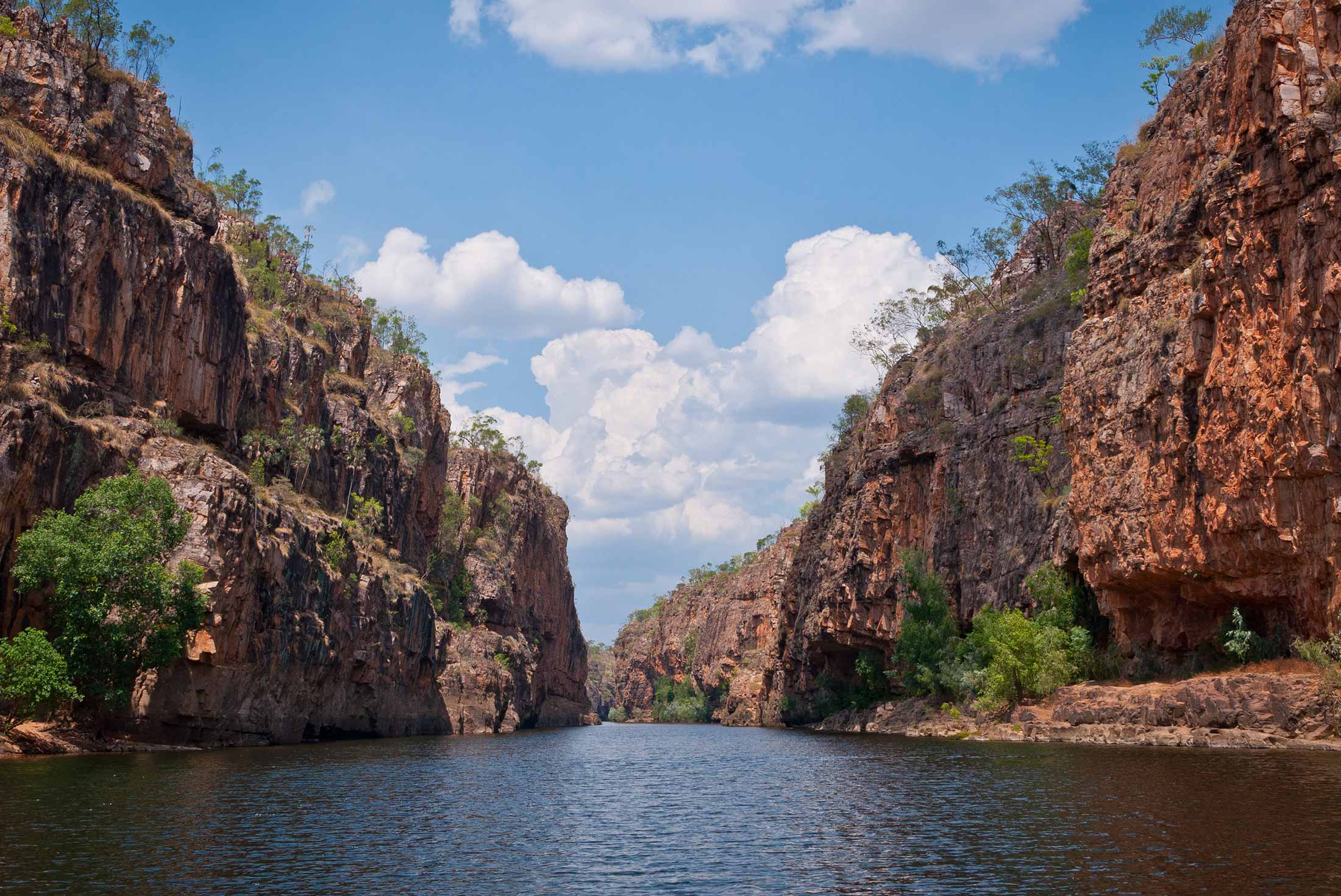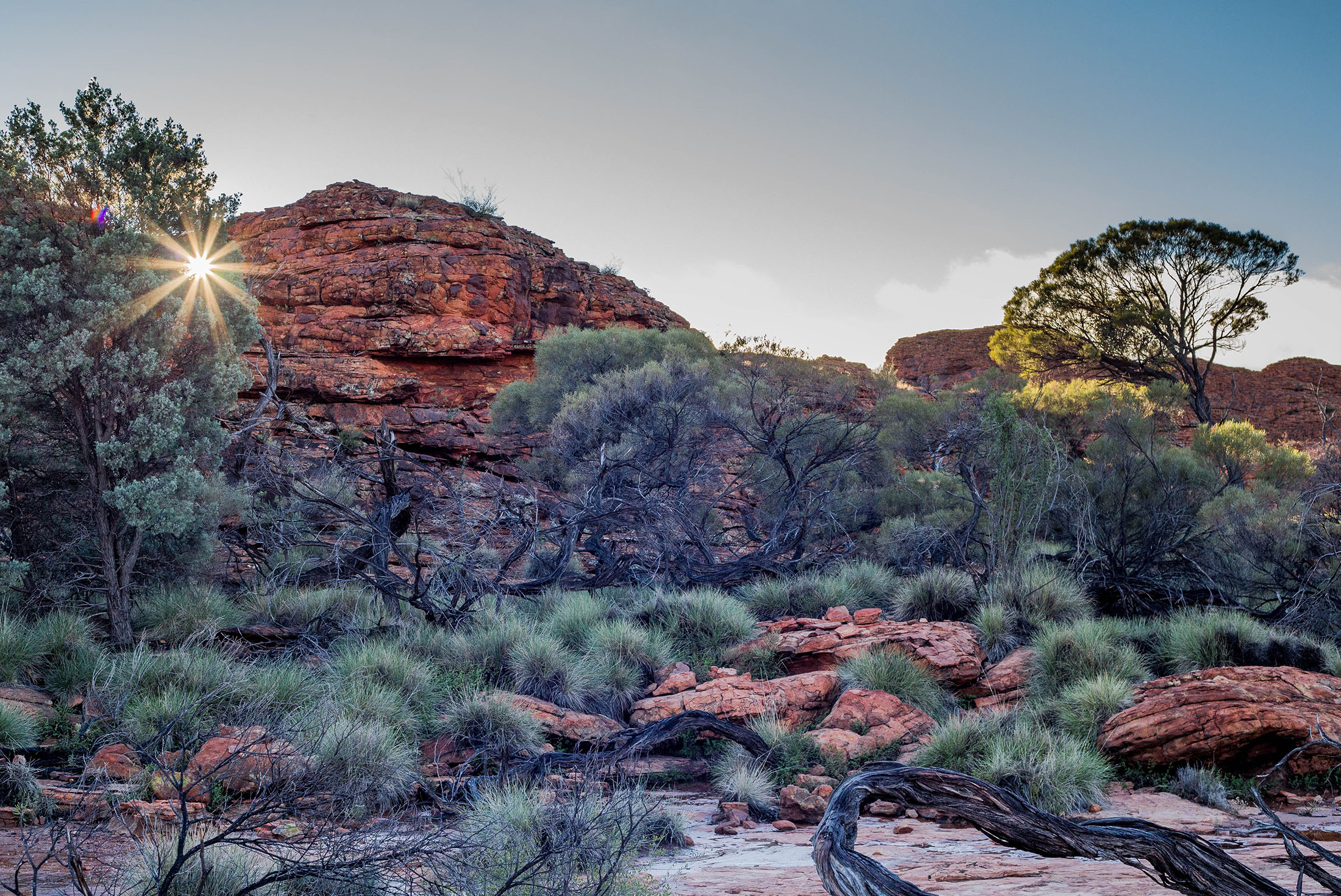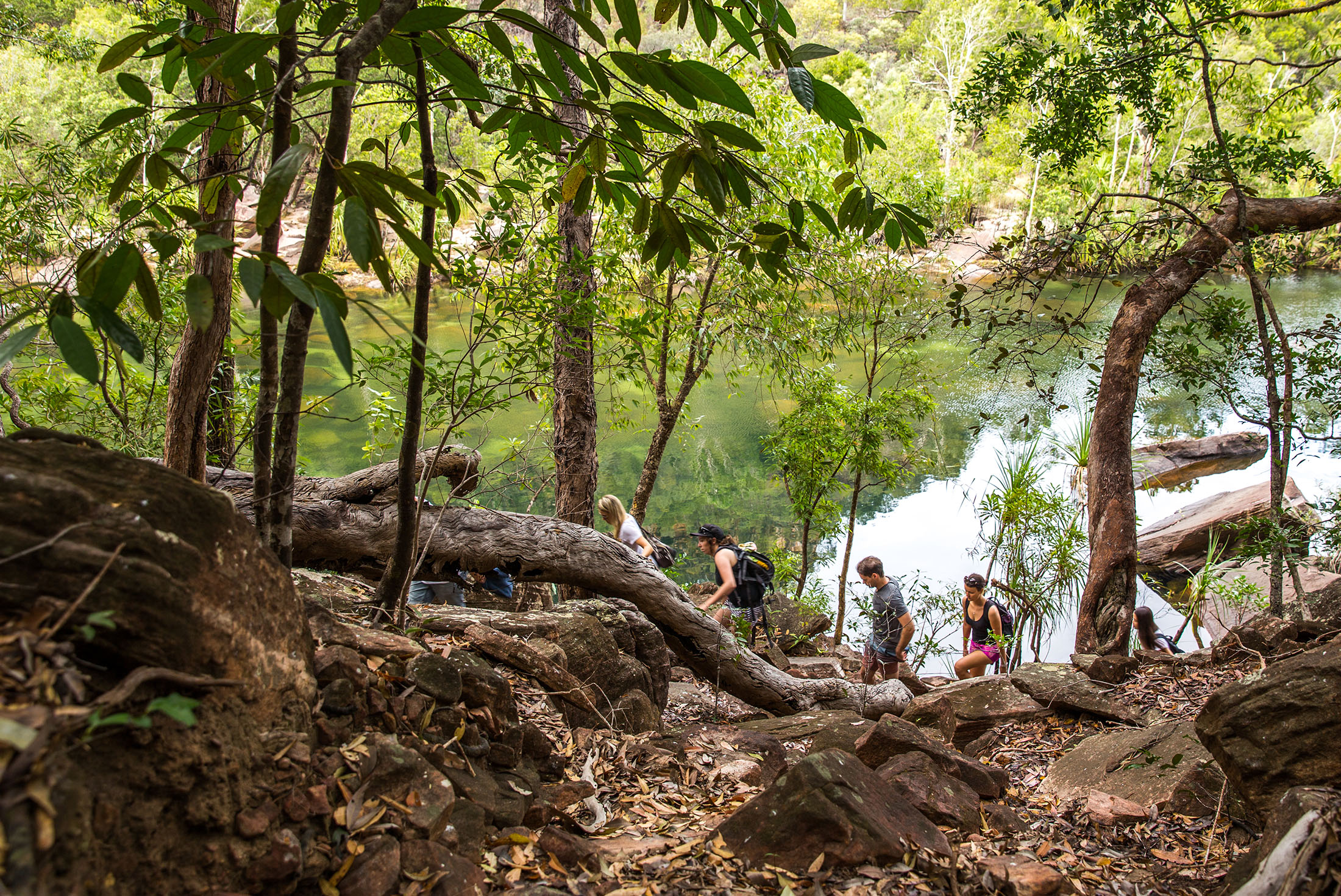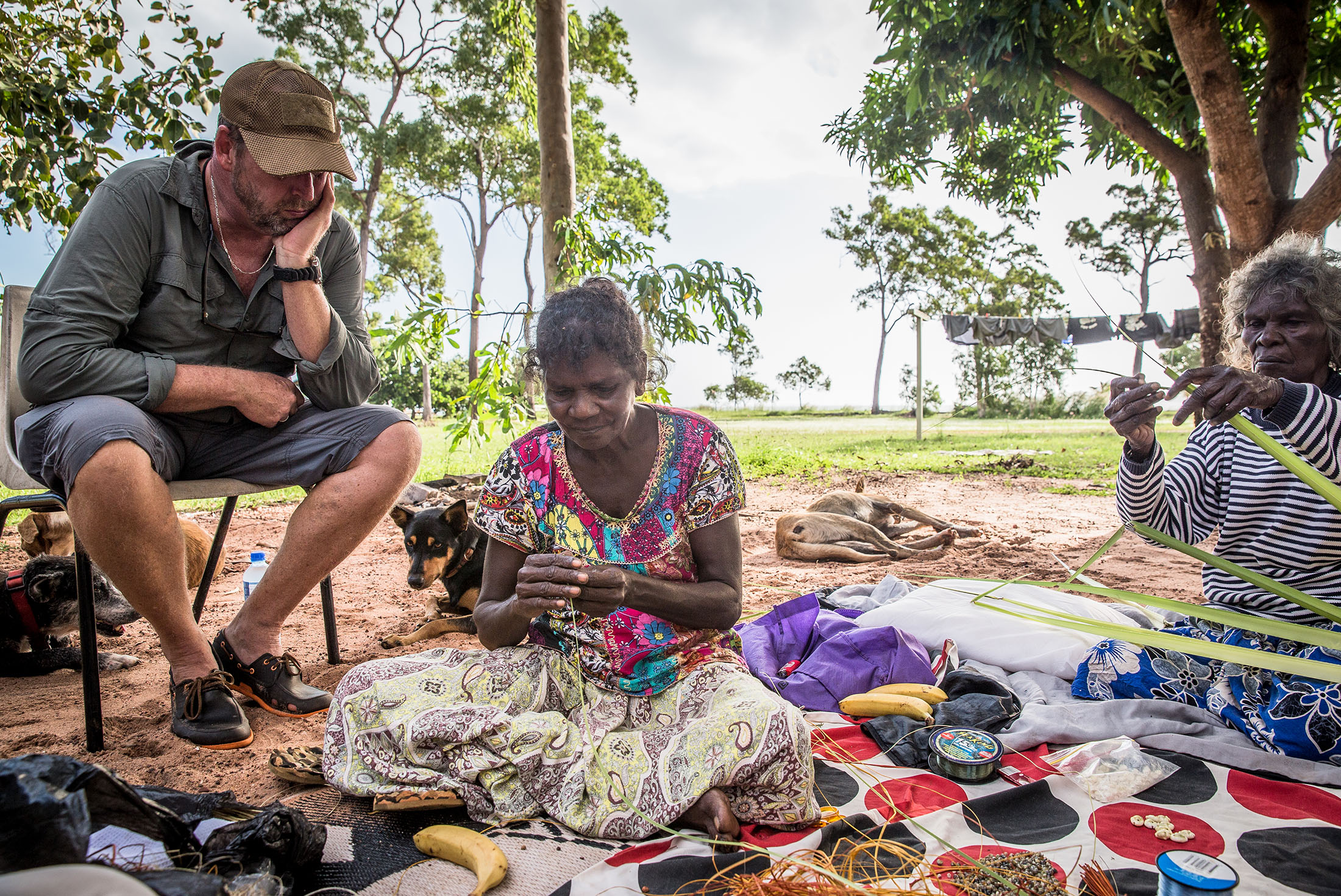 Get back to basics with this classic overland adventure
Skip 1500km of straight driving between Darwin and Alice Springs in and fly with Qantas Airways, on an included flight
Enjoy authentic Aboriginal and Torres Strait Islander experiences in the Top End and Red Centre and exclusive access to Arnhem Land
Discover the wonders of Kakadu National Park. Get adventurous on a 4WD tour to the spectacular Jim Jim Falls and see the ancient Aboriginal and Torres Strait Islander rock art of Ubirr
See the sun rise over Uluru, walk the rugged rim of Kings Canyon, discover the highlights and national parks of Australia's Top End in authentic outback style.
Enjoy the flexibility of a private vehicle, the local knowledge of a passionate guide and the magic of camping under the great southern sky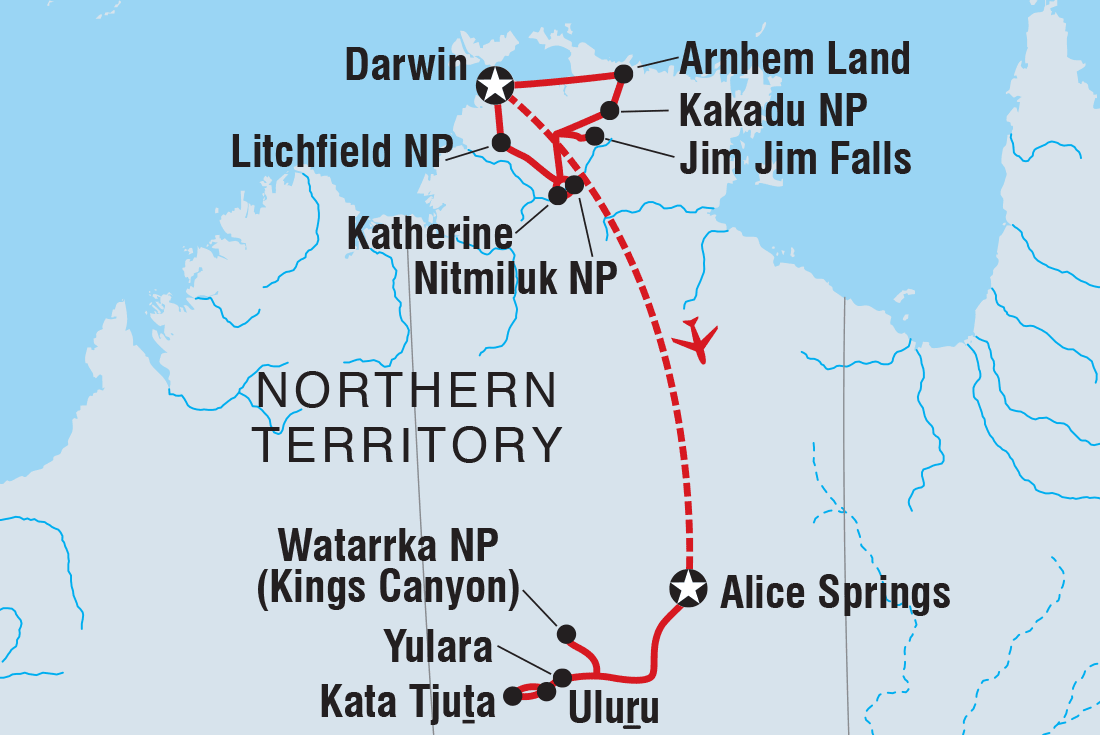 Embark on a Northern Territory adventure from Darwin to Alice Springs, taking in the region's biggest and best draws along the way. Witness Uluru during a stunning sunrise, wander through the majestic canyons of Kata Tjuta and admire the views from Kings Canyon. Enjoy exclusive access to Arnhem Land and get a taste of the tropics in Kakadu and Litchfield National Parks, as well as Katherine Gorge. A region of exceptional landscapes and intriguing cultural attractions, this tail-to-top adventure through the Territory is a trip that will leave you with a profound appreciation of Australia's raw and rugged natural beauty.
Day 1: Darwin - Arnhem Land
Welcome to Darwin, the Northern Territory's tropical capital. Leave Darwin in the early morning and travel to Wulna Country where you will be greeted by a Cul Cul or 'Welcome to Country' from the Traditional Owners of the land, the Limilngan-Wulna people. Learn about their culture as your hosts treat you to bush tucker talks and didgeridoo and basket weaving demonstrations. Then, it's on to the border of Kakadu and Arnhem Land for a Guluyumbi cruise along the East Alligator River. Travelling with a Bininj guide, understand more about the cultural importance of the East Alligator River to the region's traditional custodians and hear about local mythology and customs. Once the cruise wraps up, jump in a vehicle and cross straight into Arnhem Land for an unforgettable afternoon of exploration. Start by unveiling more art at a complex known as Mawurndaddja. This complex has a spectacular series of galleries with rock art spanning from the present time to many thousands of years of age. Your guide will explain the importance of this art, the methods used to perform this expressionism and the anthropological system used to date the art as you are guided through the site. Spend the afternoon exploring this historic ancient site. Following this, head back into Kakadu for an overnight stay Total driving time: about six hours (approximately 350 km) Total walking time: about one and a half hours (including stops for informative talks)
Day 2: Kakadu National Park
After fuelling up with an early breakfast, it's on to Jim Jim Falls, Kakadu's most iconic natural attraction. It's a challenging walk through monsoon forest and over boulders. Recharge with a cooling dip in the clear waters beneath the falls upon arrival, or simply soak up the spectacular scenery while relaxing on the beach. After lunch head to Anbangbang and discover ancient rock art. Originally Warramal clan land, who have now passed away, Anbangbang is now looked after by neighbouring Mirarr and Djok clans. Consider taking a scenic flight over Kakadu in the afternoon, or visit Bowli Cultural Centre. Total driving time: about four hours (approximately 120 km) Total walking time: about two and a half hours
Day 3: Kakadu National Park
After breakfast, head to either Gunlom Falls or Maguk (Barramundi Gorge) for a swim in another pristine waterhole. Maguk flows down the steep walls of rugged gorge into a beautiful natural plunge pool. It's a steep climb to the Gunlom Falls plunge pool, though the reward is sweeping views of Kakadu and the welcome shade of gum trees. Neither option will disappoint. After a relaxing morning, it's time to hit the road. Stop in the old gold-mining town of Pine Creek for lunch before continuing for another three hours to your private campsite on the doorstep of Nitmiluk National Park. Once comfortable, have dinner with the group before relaxing in your tent for the night. Total driving time: about five and a half hours (approximately 340 km) Total walking time: about one and a half hours
Day 4: Nitmiluk National Park
Spend the day exploring the deep Nitmiluk (Katherine) Gorge and ancient sandstone landscape of Nitmiluk National Park. A wonderland of colours, Aboriginal rock art, waterfalls and wildlife, perhaps take a cruise or rental a kayak to get a closer look. Keep in mind that these optional activities are seasonal and at your own expense. In the afternoon, travel on to Edith Falls, a hidden oasis of clear, cool waters surrounded by bronze boulders. After a quick swim in the huge rock pools, continue to tonight's camp located at the edge of Litchfield National Park, where dinner awaits. Total driving time: about four and a half hours (approximately 350 km) Total walking time: about three and a half hours
Day 5: Litchfield National Park
After breakfast, head to Litchfield National Park. A bit of a local secret, Litchfield is awash with tropical rainforest, gorgeous waterfalls and crystal-clear waterholes. Visit Florence Falls, Wangi Falls or Bluey Rockholes, then tuck into a picnic lunch. Enjoy a stroll through the steamy rainforests and refreshing dip in one of the park's gorgeous swimming holes. In the afternoon, make the two-hour drive back to Darwin where the trip ends on arrival. If you decide to stay an additional night in Darwin, perhaps enjoy an optional night out with the group to celebrate the end of this section of your trip Total driving time: about three and a half hours (approximately 250 km) Total walking time: about one hour
Day 6: Flight Darwin - Alice Springs
Today, skip the 1,500km of driving which is about 24 hours by road, and fly from Darwin to Alice Springs with Qantas (QF). Qantas is Australia's first commercial airline and is now recognised as one of the world's best International airlines. We'll arrange your air tickets and issue them a couple of weeks prior to your departure. Please note this day is not escorted by your guide On arrival in Alice springs please look for your transfer vehicle (operated by Alice Wanderer - green and yellow bus) to transfer you into Alice Springs. The rest of the day is free to explore.
Day 7: Alice Springs - Uluru
Starting early, we make our way to Kata Tjuta and take a guided walk through the awe-inspiring Domes of Kata Tjuta. We then head to Australia's most iconic landmark - Uluru. As the sun begins to set below the horizon watch the rich colours change against the backdrop of a blazing Red Centre sunset. The perfect end to a remarkable day is awaiting you back at camp, as you enjoy a delicious spread of food with your group. If the weather permits, sit outside under the stars.
Another early start this morning is rewarded with an Uluru sunrise. While the morning is fresh enjoy a walk around the base of Uluru, gaining insights into the land and the local Mala Aboriginal people. After your stroll, we walk to the cave paintings near Mutitjulu Waterhole at the base of Uluru. You will be in the hands of an Anangu guide who will share the stories of this unique landscape and explain the Art, the Culture and connection to Land which will give you an exclusive insight to the meaning behind Anangu art and traditional culture. Once you've had lunch, perhaps purchase some art and craft at the Uluru Cultural Centre. Travel onto the exclusive campsite within Watarrka National Park (Kings Canyon), where the group will eat and sleep for the night. Note: Total driving time today is around three and a half hours. Total walking time is approximately two hours (or up to 4 hours if you do the full 8.5km / 5.3mi base walk.)
After breakfast, get your hiking shoes back on and head out to explore the impressive formations of Kings Canyon. You'll be left breathless by the sheer beauty of the canyon, as you trek through the Amphitheatre, the Lost City, the lush and ancient Garden of Eden and the North and South Walls. Lunch is a welcome prospect, before you make your way back to Alice Springs, arriving around 6pm this evening. Maybe head out for an optional final dinner with your group this evening in Alice. Note: Total driving time approx. five hours. Total walking time is approx three hours.
Food //= ArrayHelper::getValue($detail, 'description') ?>
DIETARY REQUIREMENTS: On most days, breakfast, lunch and dinner will be included. Our tours are activity and participation based. During your travels with us you will have the opportunity to assist with daily activities such as setting up camp, helping prepare meals and clearing dishes. None of this is difficult however many hands make light work and any assistance provided to crew is always much appreciated. Most people agree that this type of activity helps you feel like less of a tourist and more of an explorer. All food for this trip is purchased and packed prior to your group leaving on day one. After we've left town it can be very difficult to source special dietary requests. Travellers with special dietary requirements or food allergies are required to advise us at the time of booking. You may be asked to pay for any additional food if you have not advised us of any special dietary requirements. Due to the often remote nature of our trips, food is basic but plentiful and delicious. The below dietary needs can be easily catered for. Vegetarian Gluten Free Dairy Free (soy available ) Pork Free Please bring your own staples (nuts, bars, snacks) if you require a diet differing from the above. * Religious and more specific dietary requirements are generally unable to be catered for on these trips. NOTE: For those passengers commencing their trip in Yulara, lunch will not be provided on day one.
Accommodation //= ArrayHelper::getValue($detail, 'description') ?>
ACCOMMODATION POBTTC Basix accommodation consists of simple permanent twin share tents with single sleeping platforms. Each sleeping platform has a rubber sleeping mat, we also have swags (Aussie bed rolls) available at our campsites if you would like to experience sleeping in a swag. You will need to bring your own sleeping bag or pre-purchase one from us. Please also provide your own pillow if you wish. Accommodation in Alice Springs and Darwin is in mixed gender multishare accommodation. Private rooms and single supplements are not available on this trip. Please ensure you have selected your desired camping style correctly. MULTISHARE ACCOMMODATION: For BASIX travellers, when not camping the standard accommodation is multishare, and may be in mixed-sex dorms. The minimum age for this trip is 18. FINISH TIMES: Our trips generally finish early evening. We recommend booking one night post accommodation in your end city and planning onward travel for the following day. We cannot accept responsibility for missed onward travel if we are delayed for some reason on the last day of travel. PARTICIPATORY CAMPING: To participate in this trip you must be prepared to assist with preparing meals, cleaning dishes, collecting firewood, setting up and packing up camp every day, in all conditions.
Transport //= ArrayHelper::getValue($detail, 'description') ?>
DRIVING DISTANCES IN AUSTRALIA Australia is a BIG country! In fact, the whole of Europe fits into Australia with plenty of room to spare. Australia has a total land area of 7,706,168 sq km, and the coastline spans a massive 15,049km. Here in Australia we're used to driving long distances on holiday, but you may not be. Take for example, our 10 day Perth to Broome trip will see you travelling about the length of Portugal. Driving from Alice Springs to Darwin is about the length of the UK, and our 10 day Perth to Adelaide trip is about the same distance from Spain to Poland. Yep, it's a big country! However, that's why we think seeing Australia from the ground is better. We live in a country that has it all; stunning coastline and beaches, the outback, tropical rainforests, and some seriously amazing landscapes and wildlife. Whilst you may spend some days in the vehicle a little longer than others getting to the next destination, we think it's worth it! AIRPORT TRANSFER CONTACT DETAILS SOUTHBOUND DARWIN, Darwin City Airport Shuttle Service: Transfer Darwin airport to accommodation 08 8947 3979 bookings@darwinshuttleservices.com.au ALICE SPRINGS, Alice Wanderer: Transfer accommodation to Alice Springs Airport 1800 1800 722 111 (free call) or +61 8 89522111 info@alicewanderer.com.au
Arnhem Land and Uluru Camping Adventure
START
Duration
end
seats left
savings
price
Tuesday
Oct 8, 2019
from Darwin
Tuesday
Oct 16, 2019
from Alice Springs
Tuesday
Oct 15, 2019
from Darwin
Tuesday
Oct 23, 2019
from Alice Springs
Currency Conversion Help
To convert our prices, select a currency from the drop-down. We will show you the estimated price in your selected currency based on our most recent available exchange rate. Although you are able to view the currency of your choice, your card will be charged in GBP (with the exception of some Low Cost Carrier flights and some hotels). Final conversion rates to your local currency will be performed by your credit card issuer, and may differ from the estimates shown. Some banks may impose fees for cross-border transactions. Check with your credit card issuer to see if fees apply.